BOLT!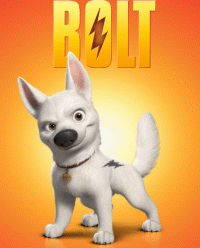 The Academy does not announce the winners until Sunday February 22nd, but the kids on KidZui, The Internet for Kids, a revolutionary free browser and online service, have been casting their votes since February 9th and picked BOLT as their favorite animated movie.
A whopping 44% of KidZui kids voted for BOLT. They obviously fell in love with Bolt, the canine action hero played by John Travolta and with Penny, Miley Cyrus in the role of Bolt's owner and co-star because they tagged the movie as "good, lol, rockin, hot, awesome, cute, fun, best, lovely, cool."
Runner up with 31% of the votes is Kung Fu Panda, in which Jack Black plays Po, a clumsy, wise-cracking, Kung-Fu loving slacker panda. WALL-E, the movie about the last working garbage-collecting robot on earth finished third with 25% of the votes.
KidZui wants to let kids age 3 to 12 enjoy the power and promise of the Internet in a fun, safe and engaging way by giving kids access to more than 1.5 million parent- and teacher-approved websites, videos, games, and pictures, as well as completely safe social networking features. As one parent raves: "It's like training wheels for the Internet!"