After such a great giveaway from pediped® footwear, perhaps those of you who entered but did not win would like to take advantage of their promotional that started yesterday because part of your purchase will even go towards a great cause. This is how my son and daughter got their first pair of pediped® footwear earlier in the year. Read on…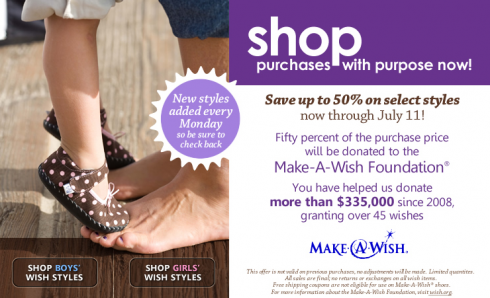 Beginning June 8 through July 11, pediped® footwear will host a Purchases with Purpose fundraiser. Fifty percent of the purchase price will be donated to the Make-A-Wish Foundation to help grant the wishes of children with life-threatening medical conditions. During this period, select styles of both Originals and Flex shoes will be marked down as much as 40 percent.
"We are so proud of pediped® footwear's continued support of the Make-A-Wish Foundation," said pediped® footwear President Angela Edgeworth. "This is the second purchases with purpose fundraiser for 2010. Our first sale of this year raised $110,000." Since May 2008, pediped® has raised more than $335,000 to help grant wishes.

About pediped® (Even though I think most of you are well aware of who they are! 🙂 )
pediped® footwear was launched in 2004 by Angela and Brian Edgeworth in their quest for the perfect soft-soled shoe for their first daughter. Exceptional quality, unsurpassed comfort and distinctive styling have made the award winning company one of the fastest-growing children's footwear brands in the United States. pediped® footwear is sold in over 2500 stores in the United States and 40 countries worldwide with an offering of more than 120 designs for boys and girls between their two lines, Originals and Flex. Originals (soft-soled shoes for newborns to age 2+) and Flex (rubber-soled shoes for children 1-6 years) are available in EU sizes from 20 to 29. For more information, visit www.pediped.com or call 1-702-567-0311.

About the Make-A-Wish Foundation
The Make-A-Wish Foundation grants the wishes of children with life-threatening medical conditions to enrich the human experience with hope, strength and joy. Founded in 1980 when a group of caring volunteers helped a young boy fulfill his dream of becoming a police officer, the Foundation is now the largest wish-granting charity in the world, with 65 chapters in the United States and its territories. With the help of generous donors and nearly 25,000 volunteers, the Make-A-Wish Foundation grants a wish every 40 minutes and has granted more than 193,000 wishes in the United States since its inception. For more information about the Make-A-Wish Foundation, visit wish.org and discover how you can share the power of a wish®.