We received an email about The Healthy Baby Bounty Bag needing a new name! If you think up the winning name, you have a chance to win a $100 gift card!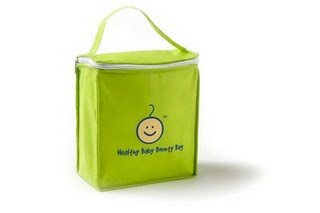 Since it is still Breastfeeding Awareness Month and I am struggling through the initial soreness of my eighth nursing experience (my son is a nursing barracuda, seriously!), I thought it'd be fun to include this in our posting schedule this week. After all, I am sure there are many of you who would love to win a $100 gift card, right?
All you have to do is visit By Moms For Moms read their post and submit your comment on what the new name should be. By Moms For Moms would love for you to help promote this to your family, friends and social media followers.
The "Healthy Baby Bounty Bag" contains product samples, coupons, and information that support and encourage breastfeeding without a packet of formula and without conflicting and contradictory messages about breastfeeding. Many hospitals have started to opt for these bags instead of the formula sponsored ones that are usually given out. Read more about it here.