Fashionable Media Review Policy: The featured product for this review was provided to me, at no cost, by the manufacturer or representing PR agency for the sole purpose of product testing. Opinions expressed are my own and are not influenced by monetary compensation.
About Wood Sprite Organic Body

Wood Sprite's line of Premium Organic Soaps are artfully handmade in small batches using a base of organic olive oil, organic coconut and organic palm oil using the time-honored "cold kettle" method. They utilize whole or organic herbs, aromatherapy grade pure essential oils and exotic nut and fruit oils such as organic sunflower, organic sweet almond, kukui, apricot kernel and grapeseed or rich, nourishing butters such as organic shea, mango, organic cocoa and kokum, which add vital moisturizing properties to the characteristically creamy, luxurious lather of our organic soaps. Wood Sprite organic soaps are unsurpassed for purity, quality and performance. Naturally glycerin-rich, our organic herbal soaps gently cleanse the skin without stripping it of its essential natural oils, leaving your skin feeling soft, smooth and utterly pampered! We use only pure, natural essential oils to scent our soaps and organic herbs or naturally-occurring clays to color them. You will find absolutely NO artificial fragrances, colorants or preservatives in Wood Sprite Organic Soaps. In fact, they use no synthetics or chemicals of any kind and have never used parabens or pthalates in any of their products (for more information on the potentially harmful use of parabens and pthalates in cosmetics, please see the excellent "Think Before You Pink" website, at thinkbeforeyoupink.org). They do not test on animals, and use entirely botanical or mineral ingredients with the exception of only organic honey and beeswax. All of their ingredients are clearly disclosed on their website.
But organic soap is not all they make–they also make an assortment of fine organic spa and body care products, for the the highest quality and purity in organic skin care. For the discerning spagoer, they offer a full line of natural and organic, chemical-free spa products and professional spa treatments which you can enjoy in the comfort of your own home, any day of the week. To complement their organic bath and body lines, they created a special selection of hand-poured Soy Aromatherapy Candles in their signature fresh and fragrant pure essential oil blends to light up your living space and enhance your mood. (Taken from www.WoodSpriteOrganicBody.com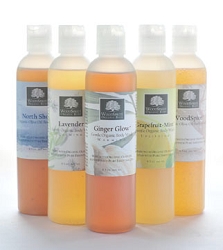 Grapefruit-Mint Gentle Organic Body Wash: We loved the smell of this gentle organic body wash. Grapefruit-Mint may not sound all that appealing but really does smell very nice. It definitely lives up to Wood Sprite's claim of leaving your skin feeling soft. Our oldest daughter just loves it. It comes in 5 scents and is $14.00 for a 9.5oz bottle.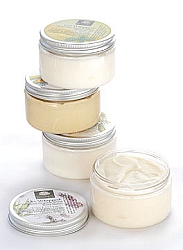 Get Whipped Vanilla Shea Body Butter: This shea body butter is so nice to have for eczema. Our oldest has had some eczema and it took away some of it that was on her arm and it has since disappeared. We like how it applies, as it is not greasy feeling. I am not sure about the smell yet though. It comes in a nice plastic container and has 4 scents. It is priced at $19.99 for a 3 oz jar.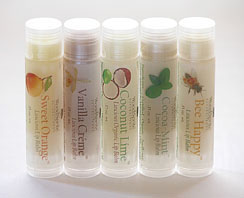 Sweet Orange Lip Balm: This lip balm is extra special as it has a really great smell – one of the best lip balm scents we have ever smelled – but we love oranges though! It is not greasy nor waxy tasting and is very helpful when you have chapped lips. It comes in 6 scents and is $5.00 for a .15 tube.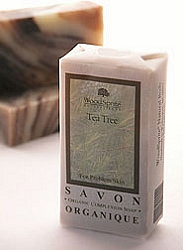 Tea Tree Complexion Soap: This soap is so soft it is hard to believe that it has no parabens or any other chemical ingredients. It is has olive oil in it so that makes it extra soft! Our oldest daughter is a huge tester in our family because if she can use a product, then usually it will be good for all of us. She used this on her face and had no problems. She didn't break out at all, so we are very happy with this soap! It is $9.00 for a 0z bar. This soap is great to combat eczema, psoriasis or acne.
We definitely recommend Wood Sprite Organic Body! It is an added bonus that they are Certified Organic. We love it that they do not use any chemicals in their products. Be sure to check out the rest of their products at www.WoodSpriteOrganicBody.com.