Editor's Note: This new techno-gadgetsounds like a technology must have for busy moms on the run. I know the pitch got my attention!
Eye-Fi Inc. (www.Eye.Fi), makers of the world's first wireless memory card for digital cameras today announces its availability at Target stores nationwide, bringing the fun and ease of photo and video sharing and file back up to more homes and classrooms. Target shoppers, moms and teachers alike, can now add the Eye-Fi Connect X2 to their school shopping list, allowing families to instantly share and back up those priceless back-to-school digital memories.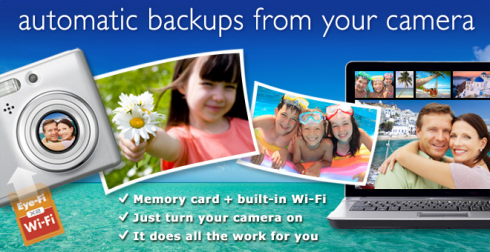 Available at 1,740 Target stores nationwide and Target.com, and compatible with almost any digital camera, Eye-Fi cards not only store pictures and videos, but automatically upload the pictures to a computer whenever you are in range of a wireless network. Whether it's a parent sending their kids off on their first day of school, or a teacher sharing a playground snapshot with a working parent, Eye-Fi lets people instantly shoot, upload and share.
Flickr or Facebook users can also customize their card to instantly upload pictures to their favorite photo-sharing site. Eye-Fi memory cards are easy to use and completely eliminate the chore of uploading pictures – perfect for the busy parent.
Target Shoppers Can Easily Back up and Share Back-To-School Digital Memories with Eye-FI's Connect X2
Eye-Fi Inc. (www.eye.fi), makers of the world's first wireless memory card for digital cameras, today announced that the Connect X2 will be available for purchase among Target's (NYSE:TGT) 1,740 stores in 49 states nationwide and at Target.com. Eye-Fi makes backing up and sharing photos and videos easy with its built-in Wi-Fi and host of services, and can now be picked up along with other essential supplies during back-to-school shopping. "Target's commitment to providing a fun and convenient shopping experience with unique and highly differentiated products at affordable prices makes it a necessary stop on many family's back-to-school shopping trips. Having Eye-Fi available there gives families the ability to more easily share photos and videos with friends and family," said Jef Holove, CEO of Eye-Fi. "Capturing that first day of school is always memorable, kindergarten through college, and the Connect X2 makes backing up and sharing photos so effortless, busy families will be able to send pictures soon after taking them."
The Connect X2 works like a regular SDHC memory card and is compatible with everyday compact cameras. Users will automatically be able to upload photos and videos to their computer and favorite websites – choose from 25 partner sites, including Flickr, Facebook, Picasa and more. With 4GB memory, users can store up to 2,000 photos or 90mn of video with top-notch Class 6 read & write speeds. With additional Connect X2 core features, Target shoppers can now get:
* Wireless upload – Built-in 802.11n speed uploads JPEG photos and videos fast through a home Wi-Fi network.
* Endless memory – Running out of space and missing a picture is a fear of the past with the only card that frees up space after pictures are safely delivered.
* Automatic back-up – JPEG photos and videos upload directly to chosen folders on the computer, or even directly into iPhoto for Macs.
* Organization – Photos and videos automatically land in date-based folders, so memories are organized effortlessly.
* Pick of pictures – Users select which photos and videos are uploaded, and where they're shared.
* Quick and sweet – Set up takes just minutes.
The Connect X2 is available for purchase for $49.99 at select Target (NYSE:TGT) stores. For more information about Eye-Fi, please visit www.eye.fi.
About Eye-Fi
Founded in 2005, Eye-Fi is dedicated to building products and services that help consumers manage, nurture and share their visual memories. Eye-Fi's patented and patent-pending technology wirelessly and automatically uploads photos and videos from digital imaging devices, including digital cameras and the iPhone, to online, in-home and retail destinations. Headquartered in Mountain View, Calif., the company's investors include LMS Capital, Opus Capital, Shasta Ventures and TransLink Capital. More information is available at www.eye.fi.