Fashionable Media Review Policy: The featured product for this review was provided to me, at no cost, by the manufacturer or representing PR agency for the sole purpose of product testing. Opinions expressed are my own and are not influenced by monetary compensation.
My Baby Clothes Boutique sent me a cute little Waggles Coat and we love it on baby. He looks adorable in it! Waggles even has a tail, my two year old was the one to point that out to me!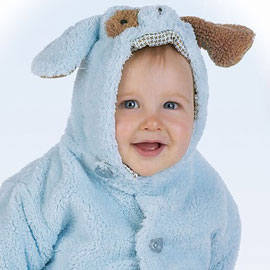 This little coat is very soft, baby blue and brown, with a combination of two buttons and Velcro closures. It is lined in silky polyester that seems to be too cold for winter, but I guess baby isn't really wearing short sleeves for it to bother him. The disappointing thing is that the lining at the hood/jacket seem has come part way undone already, without being washed. The material frays very easily too, it's such a pain to sew frayed fabric. Baby has only worn it a couple of times and our two year old has even put it on a couple of times. I am sure he enjoys hearing us tell him how cute he is too!
The Waggles Coat costs $30.00 and is available at My Baby Clothes Boutique.
Find cute baby clothes, fashionable diaper bags and much more at My Baby Clothes Boutique.http://www.mybabyclothesboutique.com/waggles-coat-p-1949.html
Here's a photo of the frayed material at the seam of the hood and jacket: