Congratulations to Jennifer Marie you won this giveaway!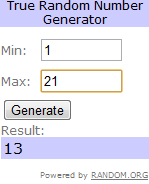 Thanks to all who entered and to Baby Einstein for sponsoring this awesome giveaway! Winner chosen by Random.org
~~~~~~~~~~~~~~~~~~~~~~~~~~~~~~~~~~~~~~~~~~~~~~~~~~~~~~~~~~~~~~~~~~~~~~~~~~
Baby Einstein, an award-winning leader of infant products, is proud to announce the upcoming release of three exciting new titles -Baby Lullaby, Neptune's Oceans and World of Rhythm- as part of its recently launched Discovery Kit collection. Baby Einstein Discovery Kits help provide parents with new ways to introduce their babies to the beautiful music, nature, animals and the world around them in playful and engaging ways – for which the company's products are known.
Each kit features a DVD, a music CD and a picture book or Discovery Cards, with each element complementing the others. The new Discovery Kits encourage parents to take what they and their little one have seen on screen, in the book or on the Discovery Cards, or listened to on the CD and apply it to baby's everyday life. The kits are also designed to grow as baby grows and are organized in a way that offers three distinct levels of discovery: Experience, Explore & Expression.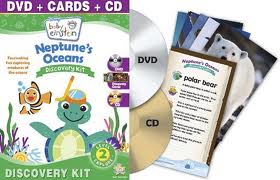 Baby Einstein is giving you all a chance to win the new Neptune's Oceans DVD! Dive in with your little explorer for a voyage of undersea discovery! Journey across Neptune's Oceans to encounter amazing marine life in their natural habitats. Penguins, whales, dolphins, sea lions and crabs come to life in engaging musical portraits. Together, you and your baby will ride a tide of fun as you explore this wondrous new world!
Check out the trailer:
So you wanna win a pair of Baby Einstein Discovery Kit????? Estimated value $20.00
Tell me why you want to win!!!!
Extra Optional Entries: (Leave 1 comment for each extra entry.)
1 Entry: Follow @fashionablebaby on Twitter (include your Twitter name in comment!)
1 Entry: Follow Baby Einstein on Twitter (include your Twitter name in your comment!)
1 Entry: (per day) Tweet about this contest. Leave 1 comment for each tweet with the link to tweet. Or copy & paste the following:

I just entered to win a Baby Einstein Discovery Kit! @fashionablebaby http://bit.ly/fLhg8R #GIVEAWAY
1 Entry: Like Baby Einstein on Facebook
1 Entry: Become a fan of The Fashionable Housewife on Facebook
1 Entry: Become a fan of The Fashionable Bambino on Facebook
1 Entry: Become a fan of The Fashionable Gal on Facebook
1 Entry: Become a fan of The Fashionable Plate on Facebook
1 Entry: Subscribe To The Fashionable Bambino RSS Feed
1 Entry: to The Fashionable Bambino Newsletter
1 Entry: Subscribe to Baby Einsteins Youtube Channel
5 Entries: Enter one of our other Giveaways
(5 entries per additional giveaway entered.)
5 Entries: Share a link to this giveaway on your Facebook wall. (Leave comment with link back to your Facebook profile. Must have more than 50 friends!)
10 Entries: Post about this contest on your own Blog and link back to this post and .
Note: You must leave 1 comment per entry. Extra entries will NOT be counted unless you leave a NEW comment for each one (not a reply).
Details
Contest runs from April 18th, 2011 till May 1st, 2011. Last chance to enter is at May 1st, 2011 11:59pm ET.Two winners will be chosen with Random.org and notified by email within 7 days of contest end and asked for full name, address and phone number (for shipping purposes). If no response is given within 48 hours, different winners will be chosen, so please be sure to check your email!
Entrants must be 18 or older and located in the US only.
Prize will be provided and shipped by Baby Einstein.
The prize or prizes have been provided by the company and not myself. The brand or company is not a sponsor, administrator, or involved in any other way with this giveaway. All opinions expressed in the post are my own and not those of the company providing the prize.
If you are the winner of this giveaway and you do not receive your item within 8 weeks of sending us your mailing address, please email us and let us know.
---