Fashionable Media Review Policy: The featured product for this review was provided to me, at no cost, by the manufacturer or representing PR agency for the sole purpose of product testing. Opinions expressed are my own and are not influenced by monetary compensation.
What little girl doesn't like to get their hair done up pretty when she's all dolled up? I know all of my girls do. When we have the time we love to experiment on new hair styles. I enjoy making my girls hair look prettier than normal and they enjoy the extra one on one time we have while we are doing their hair.
I actually cut my family's hair, maybe once a year or so I will go and get my hair cut. Last fall I did take my oldest when she wanted to try layers, which is out of the scope of my ability. It has been an interesting process to go from cutting bangs straight across with a little feathering and cutting girl's hair straight across the back to cutting boy's hair. I find boys hair challenging especially when they do not stay still. More often than not they have received a buzz cut because of their inability to stay still!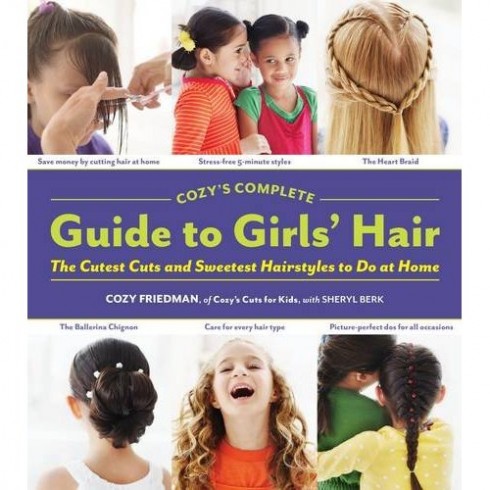 Cozy Friedman is a hair stylist with an acclaimed hair salon in New York City that is just for kids, including celebrity kids. She has created a book for parents like us who want to know more about hair care: cutting, styling and stress free hair-dos that can be created in five minutes!
We love the ideas this little book features. The hair styles are shared in a way that even my girls can create some of them on their sisters.
Meanwhile, I am hoping she comes out with a book about boy's hair!
Cozy's Complete Guide to Girls' Hair
may be purchased at any major book retailer for just $15.95. Well worth the price since it is a coil bound book with a hardcover.
Visit Cozy's website at http://www.cozyscutsforkids.com/