And since no one else entered Adelle won! Congratulations!
~~~~~~~~~~~~~~~~~~~~~~~~~~~~~~~~~~~~~~~~~
This week's giveaway is a tube of Mustela 9 Months. Pregnant and want to keep those stretch marks at bay? This is a product you'll want to try, especially since there are so many celebrity moms swearing by Mustela products. Here are just a few to tickle your interest a little:
"I am obsessed with Mustela®'s Stretch Marks Double Action. It is keeping my growing belly beautiful and stretch-mark free. Also, I use Mustela®'s Ultimate Hydration to keep my skin moisturized during the dry winter season – especially because of all the traveling I've been doing. I can't wait to use Mustela® Bébé products once our little one arrives in May." – Tiffani Thiessen (Actress)
Their (Mustela) baby products are my favorite. Naleigh gets really dry skin, and they have a great line for it. But I love the wipes – I think everybody should carry them whether they have kids or not!" – Katherine Heigl, InStyle November 2010
"Does anyone else adore Mustela Bébé products? I'm sad my boys are outgrowing it. Smells so good! & the mommy products kept me stretch mark free!!" "I bought the baby Mustela perfume for me! I loooove that smell! I'm still using the intense serum Mustela in the glass bottle! ADDICTED to that baby wash. Smells soo clean! Mustela rocks." – Melissa Joan Hart (Actress)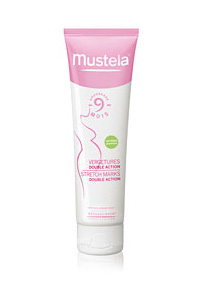 Mustela 9 Months® draws upon the unique association of 3 specific active ingredients:
Elastoregulator®, a natural active ingredient that enables skin to adapt to tissue stretching by strengthening its elasticity. It directly activates the production of the skin's support proteins.
Lupeol, a plant extract, stimulates biosynthesis and ensures that the collagen, naturally produced by the skin, is of good quality.
Avocado Peptides reduce the skin's increased reactivity and limits feelings of hypersensitivity. The skin is soothed and remains elastic and supple, to better withstand stretching.
TO ENTER:Tell me when you or your friend/family member is due!
Extra Optional Entries: (Leave 1 comment for each extra entry.)
1 Entry: Follow @fashionablebaby on Twitter (include your Twitter name in comment!)
1 Entry: (per day) Tweet about this contest. Leave 1 comment for each tweet with the link to tweet. Or copy & paste the following:

Enter to win our Special Delivery Giveaway: Mustela 9 Months @fashionablebaby http://bit.ly/Mustela9Months #GIVEAWAY
1 Entry: Become a fan of The Fashionable Housewife on Facebook
1 Entry: Become a fan of The Fashionable Bambino on Facebook
1 Entry: Become a fan of The Fashionable Gal on Facebook
1 Entry: Become a fan of The Fashionable Plate on Facebook
1 Entry: Subscribe To The Fashionable Bambino RSS Feed
1 Entry: to The Fashionable Bambino Newsletter
5 Entries: Enter one of our other Giveaways
(5 entries per additional giveaway entered.)
5 Entries: Share a link to this giveaway on your Facebook wall. (Leave comment with link back to your Facebook profile. Must have more than 50 friends!)
10 Entries: Post about this contest on your own Blog and link back to this post and www.mustelausa.com.
Note: You must leave 1 comment per entry. Extra entries will NOT be counted unless you leave a NEW comment for each one (not a reply).
Details
Contest runs from May 9th, 2011 till May 22nd, 2011. Last chance to enter is at May 22nd, 2011 11:59pm ET.One winner will be chosen with Random.org and notified by email within 7 days of contest end and asked for full name, address and phone number (for shipping purposes). If no response is given within 48 hours, different winners will be chosen, so please be sure to check your email!
Entrants must be 18 or older and located in the US only.
The prize or prizes have been provided by the company and not myself. The brand or company is not a sponsor, administrator, or involved in any other way with this giveaway. All opinions expressed in the post are my own and not those of the company providing the prize.
If you are the winner of this giveaway and you do not receive your item within 8 weeks of sending us your mailing address, please email us and let us know.