I am sure we have all been squirmish at the waiting room of a doctor's office as we try to keep our child busy and distracted from playing with toys there laded with sick germs. 🙁 It's hard, isn't it? I know I have given up and let them play admonishing them to "keep your fingers out of your mouth though!" I think Tegu has come up with a solution to this problem, especially if it is kept only for those "special" occasions.

You Won't Want To Leave Home Without It!
Tegu's Pocket Pouch is slim enough to slip into your diaperbag, purse, or even your back pocket. It includes 8 pieces of the highly addicting, magnetically connecting wooden blocks in a soft felt case that will keep your child's attention and your sanity while on the go!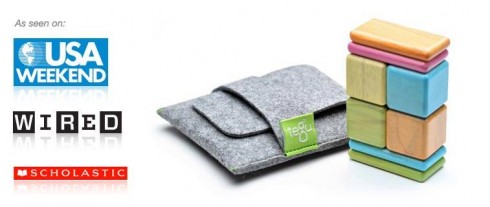 Tegu's Pocket Pouch is perfect for:
* Travel-friendly toys
* Educational toys
* Eco-friendly toys
* Toys that Give Back
Tegu Pocket Pouch is available in Natural, Mahogany, Jungle and Tints, for $28.00. To learn more about the magically magnetic wooden blocks that have taken kids imaginations to new heights and given back to our environment and
families in need please visit www.tegu.com