With summer break arriving soon, how do you plan to incorporate at home daily educational activities that will engage and teach your kids? Veggiecation has some great tips to do just that!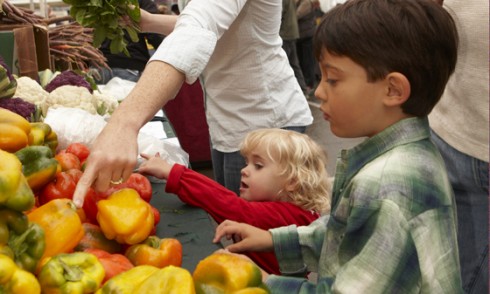 – Take your family to a local farmers market- Summertime is the best time to experience a farmer's market! Having a first hand experience of selecting their own fruits and veggies and interacting with the farmers will connect children with their food and make them more willing to try new produce.
– Have a garden- Kids love helping. So why not plant a garden together? Plus, children love eating what they have grown! If you don't have much space or time, a pot of small herbs like parsley or basil is easy to care for and will introduce your kids to the very nutritious and extremely delicious world of fresh herbs.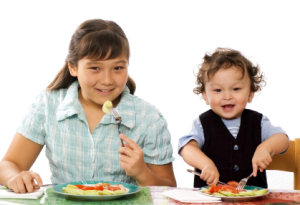 – Learn- Check out books from your local library about veggies. They will love finding out how vegetables grow and how it can benefit your health. They will be excited to tell you about their newfound knowledge and likely
to gobble up that vegetable at dinnertime.
Veggiecation also has a yummy recipe to share as well. Be sure to stop by your local farmers market and pick up some yummy fresh veggies!
The Veggiecation Program's Zucchini, Tomato & Parmesan Bake
Yield: 5 servings
INGREDIENTS:
2 medium zucchinis, sliced into 1/4-inch rounds
2 plum tomatoes, sliced into 1/4-inch rounds
1 garlic clove, minced
1/2 tsp oregano
2 tbsp olive oil
1/4 cup flat leaf parsley, chopped
Salt and pepper to taste
1/4 cup grated Parmesan cheese
DIRECTIONS:
– Preheat oven to 350 degrees.
– In a bowl, toss the zucchini and tomatoes with the garlic, oregano,
olive oil, parsley, salt and pepper.
– In an oiled baking dish, arrange the zucchini in overlapping rows. Then
arrange the tomatoes on top of the zucchini.
– Sprinkle the Parmesan cheese on top of the tomatoes.
– Bake for 35 minutes.
– Cool in the pans on a rack for 20 minutes. Remove the bread from the
pans and cool.
Enjoy!
For more information, please visit www.veggiecation.com