Ok, I have to admit that I love horses and always have since I was a young girl. I even remember trying to convince my parents to let me get a horse from a camp in our local community who "farmed" the horses out during their off season. And no we did not live on a farm, but my parents had a couple of acres – plenty of room for a horse. We just didn't have a barn, I tidied up our shed to prove to them that a horse could fit quite nicely! Needless to say the answer was a firm "No".
It was not until the past few years that my interest in horses has been revived, as I have daughters who love horses now. We even bought little horse rain boots at our local tack shop – they were on sale for $10 bucks – and our son quickly wore those out last summer.
This week is our third daughter's birthday and what does she want on her cake? Yep, a horse. Not any horse mind you but one at the barn we worked at in 2009 whose name was Leroy. Leroy was a little two year old Palamino. He was this dirty gray when we started working their in March and by the end of June he was turning into a beautiful buckskin color.
So you are probably wondering where do cute baby clothes come into this post, right? Well, I received a very cute farm outfit with a horse on it for our youngest son. It runs a little big or my son is on the small side. It is 12 months and he's only 9 months but I don't think it's going to fit him until August. Regardless it is still a sweet outfit that I will love wearing on my cutie pie. It comes with a white tee, little jeans that have adorable brown patches on the knees, nice and thick to prevent fast wear and a darling pair of brown patched/spotted socks that could be for either a horse or a cow. Can't wait to get some pictures of baby in it once he grows into it!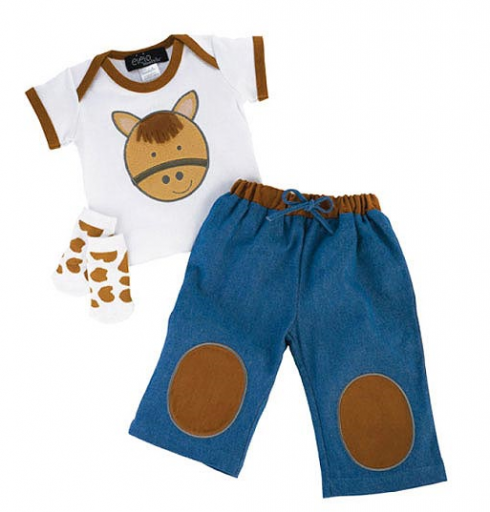 My Baby Clothes Boutique has lots of cute baby clothes that you will want to check out. Everything from dressy to play: Tutus, Baby hats, and Baby headbands. Just visit their website to find great baby clothing and gift ideas.
Look for a giveaway in July from My Baby Clothes Boutique!
Fashionable Media Review Policy: The featured product for this review was provided to me, at no cost, by the manufacturer or representing PR agency for the sole purpose of product testing. Opinions expressed are my own and are not influenced by monetary compensation.