Moms with more than one child know what it's like to be nursing a baby and having another child need you for something else. Whether it is to kiss an owie, find a toy or to get them out of mischief. Or the working mom whose hands have been otherwise occupied during a pumping break knows the value in being able to multitask at the office. Simple Wishes has come up with the solution with its new, innovative mommy product you all need to hear about! It's a chic hands-free pumping bra that's comfortable, convenient and practical for today's modern moms.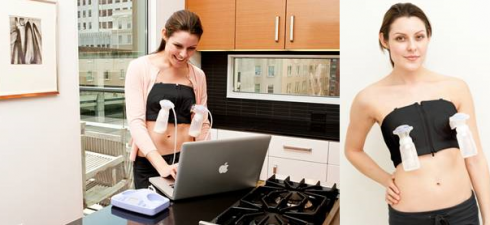 Simple Wishes is the answer to every mom's wish, as a convenient and easy to use hands-free pumping bustier that allows busy and working moms to do two (or more!) things at once. A front zipper and back velcro panel allows for growth in bust and ribcage, while detachable straps provide for versatility in the form of halter, tank and racerback styles, all in all providing a comfortable and flattering fit throughout the entire nursing period. Finally, the ability to check emails, tidy up and even prepare dinner, all while nursing for little ones.

This hands-free pumping bra comes in two colors: pink and black and may be purchase for only $39!