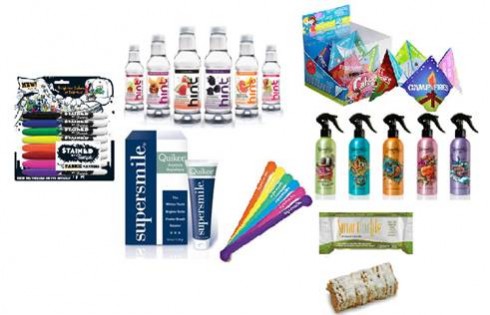 Since summer is here, most parents have about 2, 3 weeks max before the kids will be home and the summer mayhem kicks in… so the time is right to start prepping that camp checklist.
We wanted to give you all a list of the hottest items to stash in your tween/teen's duffle bags… after all, the bag of marshmallows with a note from Mom saying 'I'll miss you' just won't do it anymore.
Tattooed by Inky – no mom wants to send her kids off with pricey designer perfume/cologne, but hours of outdoor fun with little bathing opportunities = a pretty smelly situation. Help them freshen up with these lightly fragranced body sprays available in 5 different scents and colors
Smart for Life Protein Bars – sure the younger generation operates like an Energizer bunny, but months of 7am – late night play can definitely wear on their energy. Keep their fuel up with these 'grown up' rice crispy treats. They're portable AND taste great

Cahootie Camp Rocks! – perfect for the bus ride out or once they've returned to their bunks after the fire's been squelched, these fun origami type questions, silly dares and exciting fortunes are any camper's secret weapon
Supersmile Quikee and Tongue Cleaners – no matter how many times they tell you they've brushed their teeth, chances are they're grossly underestimating. Help keep their pearly whites clean and free from bacteria with the on-the-go whitening polish and colorful tongue cleaners

HINT Water – heat and crazy amounts of activity = fast dehydration. Keep your campers' water-logged with this no-calorie unsweetened essence water – comes in great summer savvy flavors

STAINED by Sharpie – when the usual macaroni crafts have become passé, keep your tween/teens happy with these brightly colored fabric markers. You might be surprised when they bring you home some psychedelic souvenirs.
What are your tween/teens summer must haves? I know my daughters are also all over Softlips and EOS products! (besides the ones listed here!)