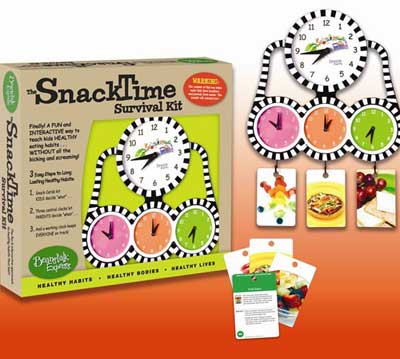 New information from the US Department of Health and Human Resources reveals that despite national efforts to curb childhood obesity here in the US, rates are still climbing! Because the years of preventing childhood obesity are over by the time our children reach kindergarten, parents need products that offer a fun and practical approach to teaching their children balanced nutrition! And we have it!
Welcome to Beanstalk Express, the home of the world's first snacktivity game, The SnackTime survival kit At Beanstalk Express, we're parents too! And like you, we also envisioned raising fruit-and-veggie loving eaters, avoiding processed foods and "just saying no!" to drive through windows! But then something happened along the way … We had kids!
After enduring the preschool battles with picky eaters and around-the-clock requests for sweets and goodies, we realized what was missing when it comes to inspiring our kids with healthy habits that will last …Food marketers have been making junk food fun for decades. So what if we made healthy choices just as much fun? We decided to try it … and it worked! When you empower children with the ability to make their own choices, amazing things happen! At Beanstalk Express, we make healthy fun! And in the process, they become habit!
Wooden Clock Board
Features one working clock, 3 control clocks with moveable arms, and 3 corresponding hooks to hold snack cards in place.
33 Snack Cards
On the front are pictures of delicious snacks to choose from. On the back is important tips and information to learn from.
How it works!
1.Each morning, Mom or Dad selects between 4-6 snack cards that are available to make that day from the deck.
2.From these cards, kids can choose their 3 snacks for that day.
3.Mom sets the control clocks to the desired snack times and hangs the snack cards on the corresponding hooks.
4.And now it's up to the kids! By Keeping an eye on the clocks, the kids alert Mom to when it's SNACK TIME!
5.Mom takes the snack card off the hook and serves up the snack.
Soooo…….you wanna win a Beanstalk Express!?
TO ENTER answer this question:
What is your biggest parenting problem that you have with your children (or child)?
Extra Optional Entries: (Leave 1 comment for each extra entry.)
1 Entry: Follow @fashionablebaby on Twitter (include your Twitter name in comment!)
1 Entry: (per day) Tweet about this contest. Leave 1 comment for each tweet with the link to tweet.
GIVEAWAY! Enter to win a Beanstalk Express!! @fashionablebaby http://bit.ly/lw43Iv Please RT!
1 Entry: Become a fan of The Fashionable Bambino on Facebook
1 Entry: Subscribe To The Fashionable Bambino's RSS Feed
1 Entry: For every comment you leave anywhere on the blog besides here, you may add one extra link for each comment. Be sure to leave an entry comment on this post saying you posted your additional comments!
(Note: You must leave 1 comment per entry. Extra entries will not be counted unless you leave a comment for each one.)
Sometimes our spam catcher is a little over zealous and will snag your comments if you leave multiple comments very quickly, one after another. I recommend waiting a minute between each comment. If the spam catcher gets you anyway, don't worry! Your comments have still been submitted, they are just being held for moderation. I approve them as quickly as possible. If you are very concerned about this issue, you may email me and let me know what the problem is.
Details
Contest runs from July 4th, 2011 till July 17th, 2011. Last chance to enter is at July 17th, 2011 11:59pm ET. One winner will be chosen with Random.org and notified by email within 7 days of contest end and asked for full name, address and phone number (for shipping purposes). If no response is given within 48 hours, different winners will be chosen, so please be sure to check your email!
Entrants must be 18 or older and located in the US only.
Prize will be provided and shipped by Beanstalk Express.
The prize or prizes have been provided by the company and not myself. The brand or company is not a sponsor, administrator, or involved in any other way with this giveaway. All opinions expressed in the post are my own and not those of the company providing the prize.
If you are the winner of this giveaway and you do not receive your item within 8 weeks of sending us your mailing address, please email us and let us know.
You might also like: