Everyone who has kids knows how busy they can keep you! And I'm sure that you all know how hard shopping can be. Especially with your kidlets! But now there's a fabulous, free new fashion app that lets me window shop my favorite brands and stores…right from my phone!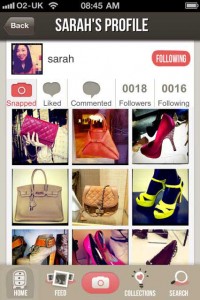 Introducing Snapette – the first-ever location-based, totally bags-centric fashion app – which is releasing today. Snapette (www.snapette.com) is the first app that lets you share and browse the hottest shoes and bags near your current location, right from your phone. So instead of running around looking for that perfect pair of shoes, or that perfect bag, you can just check Snapette to discover what styles are in stores near you. You can also search by brand, store or description – want to see what's new from Prada? What's in store at Forever 21? Which designers are showing colorblock bags this season? You can do it all from Snapette. It's like window shopping right from your phone!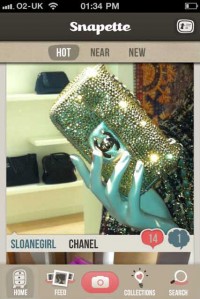 You can also check out what's trending in Paris, Tokyo or New York by viewing what users from around the world are posting from their favorite stores, in a sort of fashion-obsessed global trend report. Plus, users can share their finds with each other, creating a social community of stylish, like-minded women who can view and comment on each other's favorite styles.
Using Snapette is easy and fun. Just snap photos of bags and shoes in your favorite boutiques and department stores, then upload pictures with details like brand, price and store. You can even review other users' photos by categories such as Near, Hot and New, and vote and comment on your favorite snaps. Each user has a "virtual closet" profile page that collects and showcases photos of items they've Snapped, Like and Want, and you can also share your finds on Twitter, Facebook and Tumblr. For more information please visit- www.snapette.com