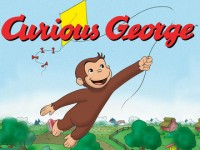 Everyone's favorite monkey is back for a new season of (mis)adventures when CURIOUS GEORGE premieres its sixth season Labor Day, September 5 on PBS KIDS (check local listings). Follow George's contagious enthusiasm as he encourages preschoolers to find their own creativity and get curious about the arts. The fun continues all season long as George explores arts themed activities including helping Betsy enter a photography contest, creating a wind symphony, sand painting the desert, and even dancing the box step.
Based on the best-selling Curious George books by Margret and H.A. Rey, CURIOUS GEORGE the television series expands George's world to include a host of colorful characters and original locales, while maintaining the charm of the beloved books.
Be sure to watch these all new episodes with your child starting September 5th!