Halloween can provide an exciting evening full of fun for the kids, but for parent's it can be downright scary! Who wants all the side effects of candy???? But Pirate's Booty can help…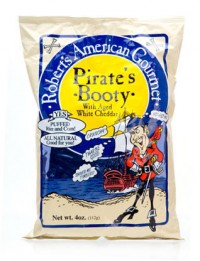 Pirate's Booty Aged White Cheddar is a deliciously baked, all-natural snack made from puffed rice and corn and blended with real aged white cheddar cheese. With half the fat and less calories than greasy, fried potato chips the half-ounce 65-calorie packs are a healthier alternative to the traditional Halloween treats!
You can find the Pirate's Booty Aged White Cheddar half-ounce 20-count Halloween multipacks through at all Target and Super Target stores across the country!