Did you know that severe tooth decay is the #1 chronic childhood disease in the United States? America's Toothfairy strives to eradicate childhood tooth decay by providing non-profit community programs with the comprehensive resources to deliver critical educational, preventive and treatment services.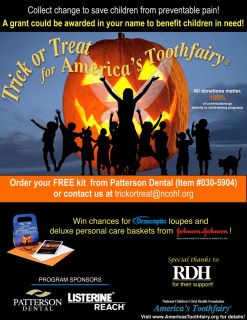 And you can help! This Halloween – set an example for your children in teaching them to care for other children. Joining America's Tooth Fairy fundraising drive is so easy even your kids can take part
Just visit this link, and you can register for the fundraiser, start or join a team, set a goal, and begin raising money in support of our child-saving, smile-saving cause! You can also donate to the fundraisers or search for other participants and donate toward their goals!
What are you waiting for? Go give children smiles this Halloween! Be sure to check America's Tooth Fairy out on Facebook!