Our current favorite brand of baby food is Happy Baby Food. Why? Because their food is so yummy and delicious for babies and toddlers! We love that it is 100% organic, BPA free, all natural, GMO free, and their packaging is all eco-friendly. My kids love their products and I love that they will eat them without complaining!
Happy Baby Pouches or Happy Tot Pouches- These yummy baby food puree pouches are BPA and phthalate free. They are all natural and organic and your baby will love them. They have a great taste and come in oh-so many flavors.
Happy Bellies Baby Cereal- Happy Bellies baby cereal is the first organic baby cereal to incorporate DHA for brain and eye development and the first baby food to incorporate the power of probiotics for baby's wellness. This cereal contains good bacteria to help your child grown and develop a strong immune system. With vitamins and minerals that are essential to baby's health, this all no pesticides no gmo cereal will sure to become a favorite.
Happy Bites Healthy Kids Meals-  A complete line of nutrition for your toddler and young child, HAPPYBITES are yummy, balanced meals in easy-to-pick-up handheld sizes. They taste great with flavors kids love and are packed with hidden veggies in every bite!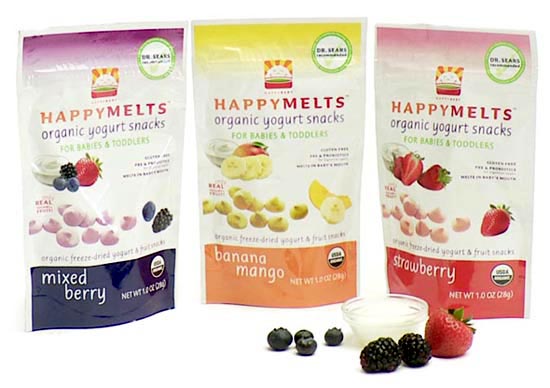 Happy Melts- Happy Melts are a truly delicious and nutritious treat made with the goodness of organic yogurt and fruit. This yummy snack offers protein, low-sugar, and the added boost of pre and probiotics for digestive wellness. My younger children love all of these products.
Happy Baby Puffs- These puffs are far more nutritous then what you can buy from other brands and plus they taste SO good! And there is no choking hazard with these puffs as they simply melt in your mouth.
Happy Baby Food get's two thumbs up from us! 🙂