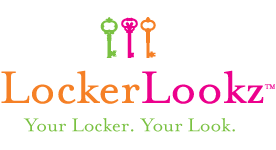 Unlock your creativity with LOCKER LOOKZ
Give your school locker a makeover from basic to beautiful with high-fashion locker decorations that make it easy for you to have an amazing locker in no time! Only LockerLookz gives you the power to express yourself through our unique mix-and-match locker design collections of wallpaper, bins, dryerase boards, flowers, and rugs. And new for 2012: clocks, bows, curtains, and more! Create the locker look that's just right for you!
We were privileged to review Locker Lookz
 Our Review:
We were privileged to review Locker Lookz. My daughter was so excited when we reviewed this opportunity. We were able to choose from a full selection of products to create her special locker look! The company advocates creativity… and with all the selections my daughter and I were able to create the perfect look!

There were many selections to choose from bright colorful patterned wallpaper to coordinating accessories. My daughter opted for the Aqua and Lime Leopard wallpaper. She chose to coordinate with a black chandelier (that really lights), a lime green flower, and a black and white scroll dry erase board. The look is pictured below.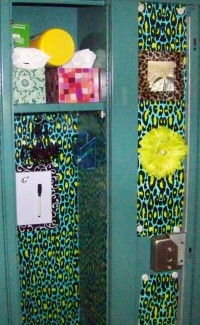 We were very happy with the turn out! All in all everything was VERY easy to install… the pieces just magnetize to the locker and that's it … all done. The only thing we had to amend was the wallpaper…we had to trim the wallpaper to fit the door of the locker. But there was enough paper to allow us to do this; I would rather trim the paper down, than not have enough! I also liked that the wallpaper had a grid backing so it made trimming a breeze…no uneven edges because I cut wrong!
Over all Locker Looks is a delightful product ~ it will definitely spice up any locker!
Reminder that you can create an entire "look" for your locker with some or all of the Locker Lookz products, or step gently in to the art of locker decorating and start small with one accessory.
Visit the Locker Lookz website to view all of the product options and to order: http://www.lockerlookz.com/
Fashionable Media Review Policy: the manufacturer or representing PR agency for the sole purpose of product testing provided the featured product for this review to me, at no cost. Opinions expressed are my own and are not influenced by monetary compensation.