Tis the season for holiday parties, Christmas lights, and stuffing the stockings. There still is some time left for last minute Christmas gifts though and we are sure you know a little girl who could use a new pair of shoes.
Unlike little boys who turn up their noses at the thought of shoes or any fashion idea, little girls go gaga to be just like mommy. And a cute pair of shoes is sure to fit the bill if you don't know what to get that adorable little girl you know. Of course it'll probably make mummy squeal too since who can resist a pair of baby shoes?
Jumping Jack Red Flats ($45.00)
These adorable little red shoes will make every outfit pop this Christmas. We love the bright shiny color and the overall cute factor.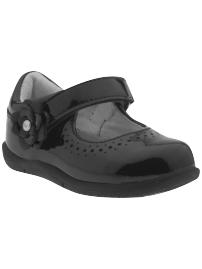 Aubree Infant Shoes ($46.00)– These adorable patent leather shoes are adorned with a little flower and are sure to make your little one's holiday cute and adorable!
Kenneth Cole Kids ($39.00)– These cute little sparkling flats are sure to make any little girl smile this holiday season. The bow is just the finishing touch.
Happy Holidays to you and yours! And good luck shopping for a cute pair of shoes this Christmas.