I had the pleasure of reviewing the Babee Covee Original, and it will now be on my must buy list for all of my mommy friends.  It combines six different products that almost every mom needs and wants into one simple design luxury baby blanket.  This genius product can be used as an infant car seat cover, nursing cover, shopping cart cover, high chair cover, stroller blanket, and playtime blanket.  A dream come true, right?  The best part, it's machine washable and reversible.  The Babee Covee is about 30 inches by 40 inches and fits on all rear-facing infant car seats and single/tandem strollers.  It's simple design makes it very easy to use for all of the different features it does.  There is a large opening on top that can be velcroed down and no-slip ties on each side.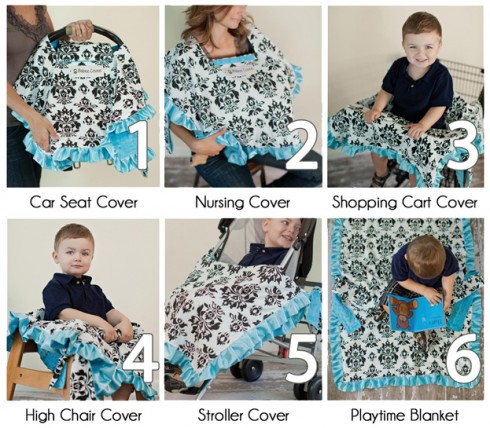 I tried it on my Chicco car seat and it fit perfectly.  The blanket is very soft and warm.  I used to just throw a blanket on top of the car seat when I was carrying it outside, and it would always fall, the wind would blow it up, and wind would get in the sides.  It never worked.  With the Babee Covee you simply center it on the car seat, unfasten the center opening flap, place the flap under the carrying bar, velcro it down, and tie the sides with a simple knot.  Baby is protected from the elements and you can easily lift the blanket up to check on her without removing the whole cover.
At first glance I wasn't sure how the Babee Covee would work as a nursing cover.  It looked kind of small to me.  Once I put it on I realized there was more than enough room to feel covered and for baby to relax.  It fits almost like a poncho, you just place your head through the center opening and adjust as needed.  I love how soft and breathable the material was.  Sometimes nursing covers can create so much heat under them that it becomes very uncomfortable.
The Babee Covee worked phenomenol as a shopping cart cover and high chair cover, too.  Simply lay the blanket over the shopping cart seat or high chair and unfasten the velcro.  Tie the straps down on either side and place the child in.  I think it was pretty comparable to other ones I have tried.  I really liked that it wasn't so bulky or complicated to figure out how to use.  Some of the other brands I have tried took me a few tries to place it on correctly, but with the Babee Covee I figured it out the first time every time.
Finally the Babee Covee can be used as a stroller blanket and playtime blanket.  My son is very attached to his "blankie" so I always have to bring another blanket with to actually cover him when we take our walks in the forest preserve.  The Babee Covee is designed to go over the lap and tied on either side of the stroller so it doesn't fall.  I cannot tell you how amazing this is.  So many times a regular blanket slowly falls and eventually lands on the yucky ground, usually into some mud.  With the Babee Covee, there is no way it can fall on the ground since it's tied on.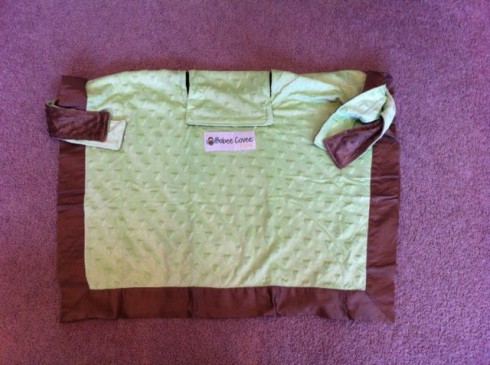 Overall, the Babee Covee is a life saver.  When I go out shopping I don't need to bring with my car seat cover, nursing cover, or shopping cart cover.  All I need is my Babee Covee, since it does all of these and more.  I've lost so many products since I had to keep track of multiple items in stores or when I travel.  Now I only need to remember one item.  When I'm grocery shopping and baby is sitting in the cart with the Babee Covee I don't have to search for my nursing cover when she's hungry.  I simply just remove baby and the Babee Covee, throw it over my head and feed.  I now only have one item to wash instead of six.  The biggest plus?  My husband loves it since there is less for him to help carry and less baby products stored in our van!
The Babee Covee comes in many different colors and styles.  Receive $5 off ANY purchase by typing in "5Babee" at checkout.
Like Babee Covee on Facebook to receive $5 OFF
http://www.facebook.com/babeecovee/app_192229990808929
GIVEAWAY:
Fashionable Media Review Policy: The featured product for this review was provided to me, at no cost, by the manufacturer or representing PR agency for the sole purpose of product testing. Opinions expressed are my own and are not influenced by monetary compensation.