In our family, my husband is usually the one to take care of our auto repair needs. Though yesterday I broke down right at the end of my friend's driveway. Yep, one of my daughters were going to her house to talk about goats and as I turned in her long farm lane the van died. I told my daughter that at least we knew we were meant to make it to J's house! So it was me who got to call Triple A to get towed home. It was my friend and I who got to help  direct the tow truck driver as he got our big 15-passenger van off the flatbed tow truck and into our driveway.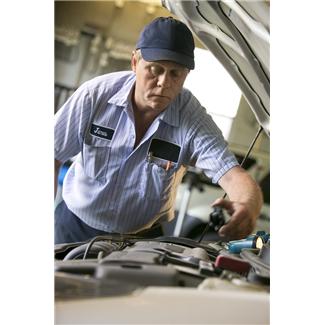 I am thankful my husband has some knowledge about cars. He's not an expert by any means, especially on newer cars but he knows enough and a whole lot more than me!
So what are women suppose to do to protect ourselves from being ripped off at auto shops? Here are some ideas for preventing auto repair rip offs – just for women:
1. Ask people you know and trust who they use for a mechanic. Usually friend and family referrals are the best. Look up online reviews of the auto shop too to learn about other people's experience.
2. Take someone with you who knows something about cars.
3. If the problem makes your car still drivable, get a second and even a third opinion from other auto repair shops.
4. Get the shop to call you with an estimate before any work is completed so you have the option of going somewhere else and authorizing any work done.
5. Put some coins in your cup holder or other visible area on your car's console when you drop it off to be repaired. If the money is there when you get your car back you know you can trust the auto shop. If the money has been stolen, don't return to that shop again.
Have you ever been ripped off by an auto repair shop? Tell us what you did in the comment section as your experience could prevent someone else from getting ripped off.