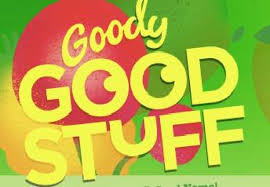 Goody Good Stuff is an all-new natural gummy candy range that is made with a plant derived bio-gum technology, which eliminates the need for animal-based gelatin, which most traditional gummy sweets use.
Over the last 15 years, they have worked to develop a food technology, which allows them to remove the gelatin from Gummy sweets while still producing a deliciously smooth and clear consistency. This makes their product range a first and only of its kind in the market. In addition, they have taken out all of the artificial colors and flavors and use only natural fruit and vegetable extracts in their range. Lastly, they have removed all of the other harmful food additives and possible allergens such as gluten, to create a truly all natural alternative, which are:
Fat Free!
Meat Free!
Dairy Free!
Alcohol Free!
Gluten Free!
Egg Free!
Nut Free!
Soy Free!
Wheat Free!
Gelatin Free!
Kosher & Halal ~ Vegan & Vegetarian ~ All Natural Flavors ~ No Artificial Colors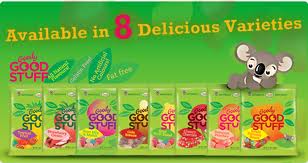 Available flavors include:
Sour Fruit Salad
Tropical Fruit
Strawberry & Cream
Koala Gummy Bears
Sour Mix & Match
Cherry Cherries
Cola Breeze
Our review:
We received two flavors of The Goody Good Stuff ~ Cherry Cherries & Koala Gummy Bears.
I must admit that with all the "goodness" on the label I was skeptical of taste and if my children would actually like the product. Well…. They LOVED the "Goody Good Stuff" !! I tasted the product as well and they taste just like regular candies…. perhaps even better!  You would never guess that this product was so "guilt free"! Needless to say that both the Cherry Cherries and the Koala Gummy Bears did not last in my house…the children ate them right away and were asking for more! I was pleasantly surprised when on our next shopping trip to our local supermarket that I easily found The Goody Good Stuff Products on the shelf in all varieties. It was a good temptation to purchase a few for the children!
Overall, this product is great… you will not be disappointed if you pick one up as a treat for yourself or your children.
To find out more information on the product or where to buy please visit the company website at: http://www.goodygoodstuff.com/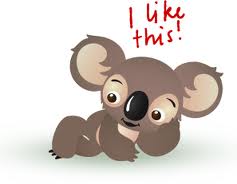 Fashionable Media Review Policy: the manufacturer or representing PR agency for the sole purpose of product testing provided the featured product for this review to me, at no cost. Opinions expressed are my own and are not influenced by monetary compensation.