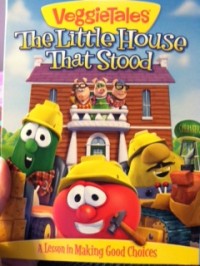 Cucumber named Larry?  Tomato named Bob?  We heard of Veggie Tales in our house, but never explored them.  I was delightfully excited by how cute and the lessons learned with Veggie Tales.  In this 49 minute DVD there is a valuable lesson with the Three Little Pigs….
The Three Little Pigs go to Cabbageville and meet with 3 different builders to build their homes.  However, only one of the builders knows what kind of house should be built and uses the "Master Builder's Handbook!"  Who's the Master Builder?  Click here to order your copy of The Little House That Stood and find out.
There are bonus movie on this DVD as well!  The Veggie Tale characters reenact Humpty Dumpty in "The Good Egg of Gooseville."  A few other features include the History of Mother Goose, and a few sing-along songs, my favorite is "Happy Tooth Day."
Great DVD for your little ones with a lesson.  They won't even realize it!
The Fashionable Bambino received the following product in exchange for writing a review. While we consider it a privilege to receive free products to review, our reviews are our honest opinion and thoughts of the product.