The Fashionable Bambino received the following product in exchange for writing a review. While we consider it a privilege to receive free products to review, our reviews are our honest opinion and thoughts of the product.
As a mom of a toddler and now an infant, I am beyond busy trying to accomplish a million and one things everyday.  Add on breastfeeding and you can see how limited my time is.  Since I'm always on the go, I barely even have time to eat!  I'm always looking for quick snack ideas that I can eat when I'm in a pinch.  Thank goodness for Milkmakers lactation cookies; a great snack for breastfeeding moms.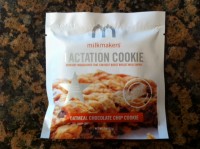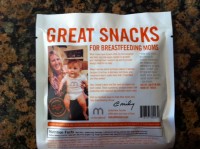 Milkmakers lactation cookies are not only organic, but they are made with ingredients such as brewer's yeast and flax seed, which are key nutrients for increasing breast milk.  Available in two different flavors, Oatmeal Raisin Dairy Free or Oatmeal Chocolate Chip, both are absolutely delicious!  My favorite is the Oatmeal Chocolate Chip.  The cookie is huge and has a great balance of chewy and crunchy.  The outside of the cookie is crunchy, while the inside is soft and chewy.  Add in a glass of milk for dunking, and you'll be in heaven!  The cookies taste incredibly fresh and make an excellent snack throughout the day.  Eating one to two cookies per day, for several days, can help breastfeeding moms reap the full benefits of Milkmakers lactation cookies.  My favorite thing is that each cookie individually wrapped.  I have a few in my purse, a few in my diaper bag, and the rest in the cupboards.  They are quick and easy to eat, very nutritious, and taste amazing!  After eating one lactation cookie a day for one week I noticed an increase in my milk supply.  It was unbelievable!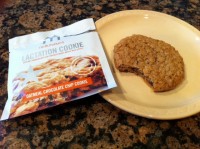 Milkmakers come in a variety of sizes, and you can even order them as a subscription so you never run out.  You can also buy the mix so you can bake them yourself.  I would recommend these cookies to all breastfeeding moms who are looking for a quick, nutritious, and delicious snack that can increase your mik supply as well.  To purchase or learn more about them visit their website at: