Fashionable Media Review Policy: The featured product for this review was provided to me, at no cost, by the manufacturer or representing PR agency for the sole purpose of product testing. Opinions expressed are my own and are not influenced by monetary compensation.
Any mom who has nursed or is nursing a baby knows that it can feel like a full time job.  I would welcome anything to make this intimate, wonderful task more comfortable.  Normally I prop my daughter on my bent knee, use a throw pillow, or fold a blanket to lay her on when I nurse.  I always feel hunched over and I'm always uncomfortable the entire time.  I was unaware that nursing pillows even existed, so when I had the chance to try the San Diego Bebe Deluxe Nursing Pillow I was intrigued.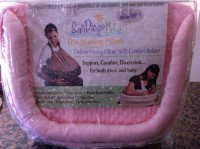 This unique eco-nursing privacy pillow by Double Blessings is free of fire-retardant chemicals, hypo-allergenic, non-toxic, eco-friendly, recycable, glue-free, foam-free, lead-free, and phthalate-free making it the healthiest nursing pillow on the market.  The material is ultra soft and the pillow is firm yet cushy enough for baby.  It easily fit around my waist and I was amazed at how easy it was to nurse my daughter on it.  I didn't have to bend at all and she didn't have to reach to me.  It was the perfect height for both of us to be comfortable.  The pillow has a detachable back pillow that I didn't think I would even need, but I tried it anyways.  Wow!  It fit the small of my back so nicely, and really gave me the support I didn't know I needed.  There is an adjustable strap to keep the pillow in place, but I didn't feel it was necessary for me to use it sitting on my couch.  The pillow features two pockets so you can place a bottle of water, the remote control, nipple cream, or anything else you may need to keep within close reach.  This was important to me, because once I start nursing I don't like to move and interrupt her eating.  I like to have everything ready so I can relax and feed her.  I loved that the pocket holds a water bottle because for some reason I always get extremely thirsty while nursing.  The other neat feature of this nursing pillow is it has a privacy cover that is attached to the pillow.  It is made with lightweight mesh so it is very airy, yet still private.  You simply pull it out of the front of the pillow, place the strap over your head and you are covered.  I don't feel it covered me as well as I would have hoped; you could still see me from the side.  I was completely covered in the front, though.
Overall, I really liked the San Diego Bebe Deluxe Nursing Pillow.  It made nursing so much more comfortable.  The deluxe nursing pillow is available in a wide variety of colors & prints and for one baby or twins.  The fabric covers are also machine washable, which is a huge plus!  If you are looking for a way to make your nursing time easier and more comfortable, I would definitely recommend purchasing a San Diego Bebe Nursing Pillow!
http://www.doubleblessings.com/