Teething is something every parent goes through with their wee one at some point or the other. It's not a pleasant experience for either le bebe or the parents.
Little Toader is a company created by a husband and wife team who came up with a wide array of inventive ideas for baby and toddler products after starting their own family. They saw the need for innovative teethers that actually worked and helped soothe babies, as well as the need for products to make parenting more fun.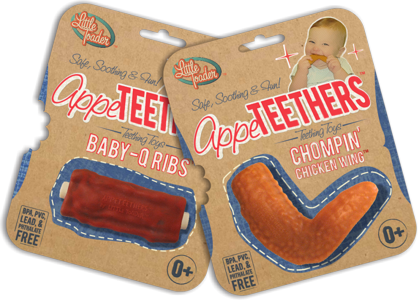 AppeTEETHERS are anything but boring and actually work. Currently ranked as one of the top teething toys, they soothe your baby's sore gums and are unforgettable with their unique design.
Based off your favorite comfort foods, baby will love how the designs massage their gums. As a parent, I love that their products are BPA, PVC, lead, and phthalate free. No paint or parts will break or rub off. There are four brand new designs coming this summer so be sure to keep your eyes peeled for those!