If you are a busy mom like me, dinner time can be more or a hassle than the picture perfect "family dinner" you see in commercials. I don't want to spend hours and hours in the kitchen just for people to inhale the food in less than 10 minutes. Not worth it! I personally do not like to spend more time preparing dinner than it takes to eat it.
With that in mind, you can see why one of my favorite things to whip up for dinner is PIZZA! It's quick, easy and everyone loves it. Even if I load it up with veggies and other topping, the kids don't complain.
Pillsbury makes it easier than ever to throw together dinner in a snap with their new Pizza Crust that is ready to unroll, cover with your favorite toppings, bake and enjoy!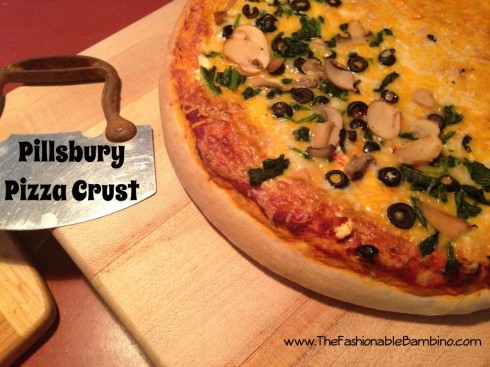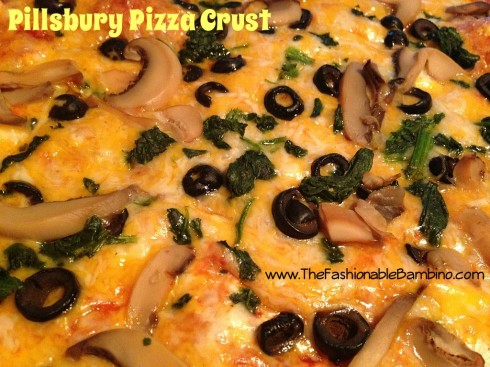 These are my personal favorite toppings:
Spinach
Mushrooms
Black Olives
Mexican Blend Shredded Cheese
All on top of Homemade Pizza Sauce I made myself with tomatoes from my garden. (That was a cinch in the slowcooker!) I only put toppings on half the pizza this time because the kids are super crazy about the mushrooms. I normally would put feta cheese on their half of the pizza but I didn't have any on hand!
The kids love the Pillsbury Pizza Crust just as much as homemade. It's perfect for those days when takeout or delivery might be tempting. Instead I can put a bunch of fresh veggies on one of the Pillsbury Pizza Crusts and have it in the oven in less than 10 minutes. Super easy and a lot healthier than other "fast food" options. I will always have Pillsbury Pizza Crust on hand now for those days when creating a gourmet dinner just isn't in the plans.
What are YOUR favorite pizza toppings?

Pizza crust that's deliciously easy! Unroll, bake and enjoy in minutes. Pillsbury pizza crust, it's the perfect canvas for your favorite toppings.
Disclosure: Compensation was provided by General Mills via Glam Media. The opinions expressed herein are those of the author and are not indicative of the opinions or positions of General Mills.