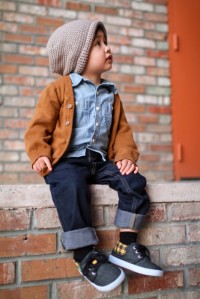 Dressing your little dude can be tons of fun. What mom doesn't want the excuse to buy adorable little dress shoes and suits to make her precious bundle of energy look oh-so dapper? We found five fashion items that belong in the closet of every little dude.
A fedora is essential. Not only does it add class and charm to every outfit, but daddy's little look alike will look extra adorable in it. The Children's Place currently has their fedora selection on sale for as low as $5.99
Beanies are in this year, and you can keep your little boy's ears warm while adding a cool element to his cardigan, button down shirt, and jean outfit! Winter Kids has a striped beanie for $17.95.
A jean jacket. The western vibe in kids fashion this year is quite apparent, and who doesn't adore the look of a little dude in a jean jacket? Gap has the cutest jean jacket for $34.95, we love the faded effect it has on the front.
Camo shoes are hot this spring, and we know several little men who would go crazy over the shoe laces alone! We love the New Balance Kids Camo Sneakers for $41.95 at Zappos. 
Red jeans aren't just for your little fashionista, boys will look quite dapper in them as well! Not to mention the red provides a cheery color pop in this freezing weather. Old Navy currently has a pair for $14.97
What fashion items are you thinking of adding to your little man's closet?