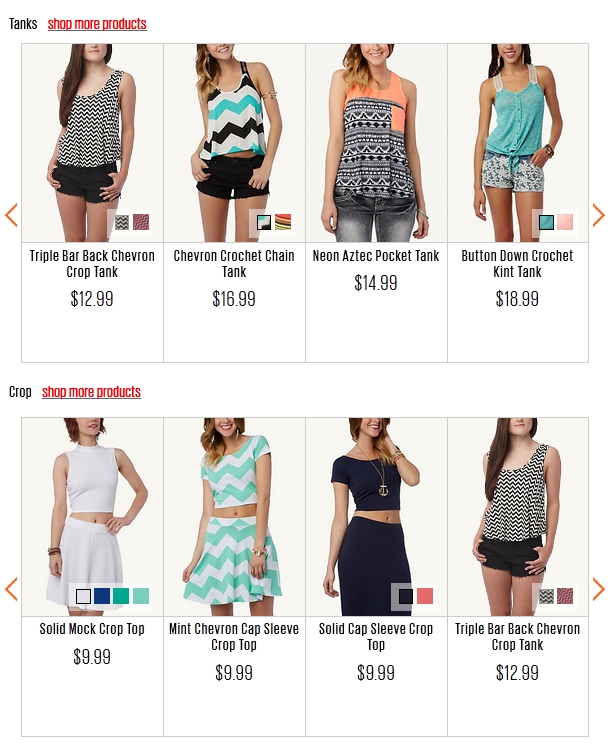 Sometimes a skirt is just too cute to pass up, and must be purchased in violation of one of the cardinal wardrobe rules, which is to avoid buying a component piece without a matching piece to make an outfit (either one you already own or one you are purchasing as a companion piece to the first). With this purchase comes the challenge: what to wear with the skirt?
The easiest solution is just to buy something then and there so you can evaluate fit and color, and find something that matches really well with the skirt you want. This is doubly good as you can also think about accessories, and pick out something appropriate for purchase or else use pieces comparable to what you already own to make decisions in store, before you have spent any money. This does require more of a time commitment while shopping, however.
If you're trying to match your new favorite skirt to your existing wardrobe, things get slightly more tricky but it does afford you some wardrobe evaluation time. Start with the skirt and think about its cut, its overall style and its color, and try to get a feel for what tops you own that will really go well with the skirt, and how you can wear the skirt and top in such a way as to make both look really great on you. If the skirt is a neutral color, you can pick a top that is a brighter color or a bolder pattern (like these fashion tops from online retailer rue21) .
The opposite also applies, if the skirt has a bold pattern or is brightly colored a neutral top might be easier to match, like a white boyfriend-type button down, which would be lovely with a maxi skirt.
If you want to match a bright combination of both top and skirt, consider keeping the neutrality balance with your accessories. Waist definition is another good style choice to take into consideration when matching tops and bottoms. The decision to tuck or not can create a great balance between top and skirt, also, and an added matching belt can make all the difference. Making a great outfit from a new unmatched skirt can be a fun challenge to help you get the most out of all your wardrobe!