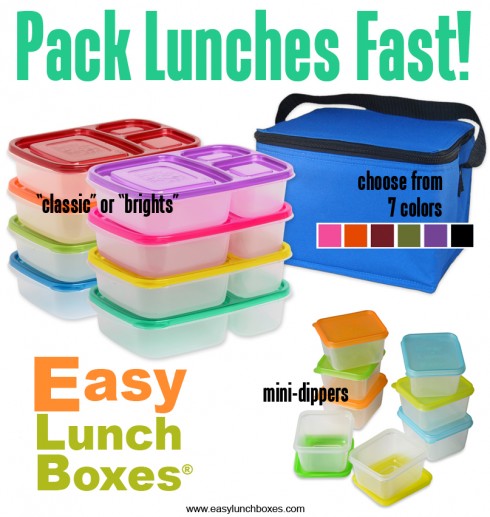 For most moms, school mornings are a blur of lost shoes, messy lunch boxes, and forgotten assignments. The founder of Easy Lunch Boxes is a mom who deeply understands that struggle and set about to make packing lunches easier.
I have personally used the Easy Lunch Box containers to pack lunches for road trips, outings, field trips, and even picnics! (The best part is that these lunch boxes aren't just for kids! Adults can use them too.) The nesting containers stack on top of each-other and fit perfectly inside the cooler bag. However, a single lunch box also fits perfectly inside a backpack!
They're easy open kid-friendly lids, and while they aren't leak proof, the lunch boxes are very sturdy. They're also eco-friendly and don't contain any BPA, lead, vinyl, or PVC. I love, love, love that they're safe for not only the dishwasher, but the freezer and microwave as well.
You're pretty much guaranteed easy prep and easy cleanup with this lunch box set! The function-ability of the lunch box set and washable cooler bag help to make your mornings a breeze. And did I mention they're affordable? A nesting set of lunch boxes is only $13.95.
To purchase an Easy Lunch Boxes set, please visit www.easylunchboxes.com.