As mom's, we want the best for our babies. Thankfully, green and eco-friendly baby products are becoming less and less rare as awareness is raised about the dangers of toxic chemicals being used in the products that you purchase for your baby. So without further adieu here is a list of our top three eco-friendly teething toys that your little one needs.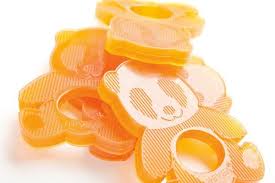 Number One: Hevea Panda Teether ($13.99) Mom's can't say enough good things about this teether. We love that it's made from one hundred percent natural rubber and is free of colors, PVC, silicone, BPA, phthalates, and Evatane. It's easy for small hands to hold the textured surface that soothes aching gums. The material is soft and won't hurt sensitive gums or skin. Babies love the fun panda shape and we think it's too cute for words. An added bonus is that the packaging to this product is made from earth friendly, recycled materials. Note: It isn't dishwasher safe, so you have to hand wash it.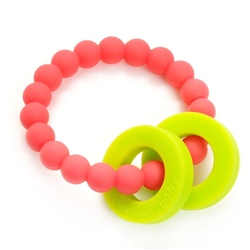 Number Two: Chewbeads Mulberry Teether ($16.50) Available in four colors, this teether is perfect for fussy little ones. It's a one hundred percent silicone teething ring that doesn't contain any BPA, phthalates, cadmium, lead, or metals. The multiple textures are perfect to entertain little ones while still being soft on baby's gums. Cleaning is hassle free as you can simply toss it into the dishwasher. Babies love the vibrant colors and textures of this teether and moms love that their little ones are getting safe relief from teething.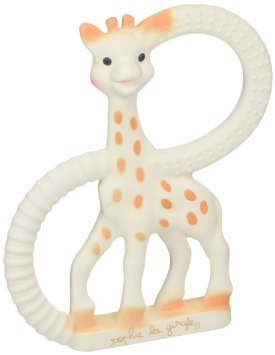 Number Three: Sophie The Giraffe ($18.80) Sophie was the original one hundred percent rubber teething ring and she's still purchased today by many parents as a trusted teething toy for little ones. She's ideal for helping sooth painful gums and her different textured rings give baby various surfaces to chew on. Little ones love her fun animal shape and if you prefer a teething toy without the handles, that giraffe option is available as well.