the Fashionable Bambino received the following product in exchange for writing a review. While we consider it a privilege to receive free products to review, our reviews are our honest opinion and thoughts of the product.
Every little girl loves to have her toes painted. Â Unfortunately, once the socks and sneakers go on they can't show their toes off. Â Bobbi-Toads changes all of that!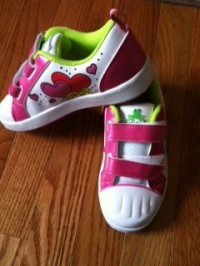 If you look closely at the next picture you'll see the toes on the shoes.
Bobbi-Toads recommends using a non-toxic nail polish. Â Which they also sell, along with remover. Â Then just have fun and paint your toe nails on your shoes! Â How cute is that! Â The sneaker alone are adorable, then add the fun of painted toe nails! Â Fashionable and Fun! Â  Want to change the color? Â No problem, use a non-toxic polish remover.
Here's a picture with one shoe painted and the other waiting!
Then the final result!
Bobbi-Toads shoes are available in little girl's sizes 11 – 13 and big girl's sizes 1-6. Â In 6 different styles (Sophie is pictured), Bobbi-Toads also has 10 shades of non-tonic Bobbi-Polish (and yes, you can use them the polish on your fingers as regular nail polish!)
These are a HUGE hit in my house! Â My daughter LOVES these sneakers. Â She wore them today and said they are comfy too! Â My 4 year old likes them, they are stylish, and comfortable – that combination makes this lady a happy Momma!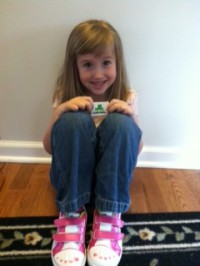 Great product for the summer when you need to wear sneakers! Â Show off her other toes!
Click here to visit Bobbi-Toads to order yours today! Â Don't forget to "Like" Bobbi-Toads on Facebook and Follow them on Twitter!