News of Haiti has slowed down since the start of the Olympics, or so it seems. At least I haven't been seeing as many headlines about Haiti. Yet, at the same time there is a trickle of emails or word of mouth events that are still raising support for this hurting nation. I have even heard from a friend that there are waiting lists for those willing to adopt children from Haiti once the Haitian government opens those doors again. One of the organizations purposefully working towards raising money for Haiti is Danielle Stevens Jewelry.
Danielle Stevens Jewelry has created an engraved Help for Haiti Necklace. It has the words Hope Faith Support Strength engraved vertically on a 1″ disk that is 10k gold plated with a 16″ chain with a lobster claw clasp. 80% of all sales will be donated to the Red Cross Haiti Relief Operation and its price is only $40.00.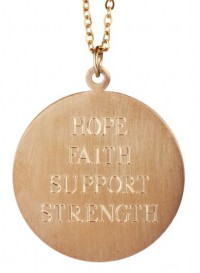 About Danielle Stevens Jewelry
Following current trends and determined to establish her own, Danielle Stevens is one of the jewelry designers to watch in seasons to come.

Launched in 2002, Danielle Stevens Jewelry is a fun, fresh, whimsical line that is popular among women of all ages. The designs are creative and fashionable. With four collections produced each year, the line is carried successfully in many stores nationwide including Anthropologie and Bloomingdale's, and in specialy stores and boutiques like Henri Bendel and Wink in Manhattan and Kitson in Los Angeles.

Her big break came in April, 2005 when a necklace from her spring collection was featured on the cover of Town & Country with an Oscar de la Renta gown.

Color and texture inspire her the most. Danielle is fascinated by nature's ability to turn something ordinary into magnificent gems and enjoys combining these natural elements with beautiful man-made plastics and ceramics in her work. She loves to experiment with different shapes of objects intertwining them with 10k plated matels and select items with gold vermeil. She has traveled the world to find only the finest stones, crystals, and beads, and brings aspects of many cultures into her unique designs.

The Danielle Stevens Jewelry line consists of a variety of earrings, necklaces and bracelets.
For additional information and products, please visit Danielle Stevens' website: http://www.daniellestevens.com/