Fashionable Media Review Policy: The featured product for this review was provided to me, at no cost, by the manufacturer or representing PR agency for the sole purpose of product testing. Opinions expressed are my own and are not influenced by mo1netary compensation.
gWipes. Interesting name, isn't it? I was intrigued when I read the email we received about gWipes. These wipes seem to be the perfect solution for those transitioning their baby care products from mainstream items to eco friendly ones.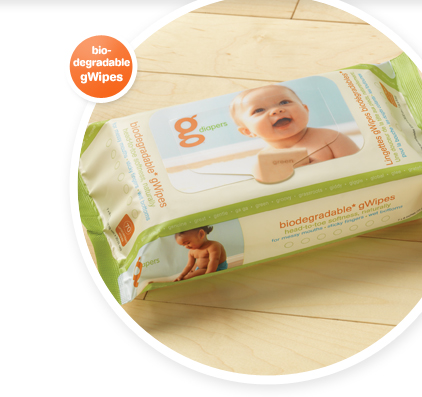 gWipes are biodegradable and what that means is best explained in this video of their gDiaper video (which I think Sarah-Jean is going to review in the future):
How is that for a WOW factor? I know it got my attention and made me realize just how much better it is to use biodegradable products.
Back to my review….
I actually liked these wipes. I tend to be a bit particular about wipes. I am not the type of mom that just buys the cheapest or on sale versions because wipes are suppose to do a couple of important jobs for moms – clean bottoms and hands, faces and even dirty surfaces, as my two year old likes to do. Gotta watch that boy or else he'll use the whole bag of wipes! But I digress. I like wipes that are wet and hold their moisture. Nothing like opening a package or container of dry wipes….:-( The wipes have to be somewhat absorbent, and have some thickness to it as I prefer not to get my hands full of stool while cleaning a child's bottom. gWipes met these criteria. The problem is a package of 70 wipes on a week we have been on the go has not lasted very long at all. So, my last criteria is that they come in big packages because my family is big. 😉 gWipes actually do come in a larger size a box of 12 packages, so they meet that criteria too.
These wipes have a pretty neutral odor. They are unscented, alcohol free, chlorine free, and all natural.
Here's an ingredient list for those of you who care:
Aqua (purified water), butylene glycol, phospholipid CDM (coconut oil derived mild skin cleanser), polysorbate 20 (wetting agent), tinosan SDC (natural preservative and deodorant), aloe barbadensis leaf juice (aloe, skin conditioner and moisturizer), sodium citrate, tocopheryl acetate (Vitamin E acetate, natural anti-oxidant), and allantoin (soothing to skin).
I haven't looked up all of these ingredients, and am surprised my daughter hasn't yet either, but on the surface things look good. But perform your own "do diligence" and research it out for yourselves too.