The Latest, Most Effective Ways to Feed and Nurture Your Baby with Comfort and Ease
by Robin Elise Weiss, L.C.C.E., I.C.C.E., C.P.E., C.L.C.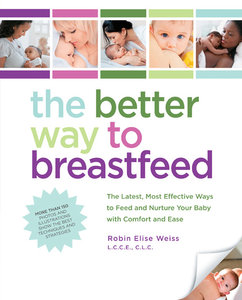 Many nursing mothers struggle with the challenges associated with breastfeeding successfully. While 74% of American women try breastfeeding, only 11% are still breastfeeding at 6 months due to the pain and difficulty associated it. But breastfeeding is one of the best ways to get your baby off to a healthy start. Nursing successfully over the long haul requires knowledge, support and practical information and techniques. With the authoritative and informative The Better Way to Breastfeed, nationally recognized breastfeeding and baby care expert Robin Elise Weiss, L.C.C.E, I.C.C.E., C.P.E., provides leading edge information as well as more than 150 photos and step-by-step illustrations that will show new mothers how to make breastfeeding better for all involved.
Whether it's a first-time mom or an experienced one looking for the latest methods and information, The Better Way to Breastfeed (Fair Winds Press, June 2010, $19.99, paperback with color photos and illustrations) shows readers how to overcome common pitfalls such as sore nipples, inadequate milk supply and improper latching. There's even a section addressing special concerns such as unusual nipple or breast shape and tips on nursing preemies or multiples.
Certified doula and lactation counselor Weiss provides readers with a step-by-step guide that includes:
* Multiple quick reference sections and handy checklists of what to know and do, and when you might need to seek help;
* In-depth discussions on how to work with your hospital, employer, friends and family to support your breastfeeding goals;
* Confidence Cues that help you read your body and your baby's subtle signals; and
* Mama Moments that provide reassurance and help to new mothers who need to take care of themselves as well.

The Better Way to Breastfeed gives mothers the practical instruction they need to ensure a healthy, positive experience for themselves and their child. Over 100 original step-by-step photographs set this book apart from the competition as well as concise and the authoritative instruction About.com expert Robin Elise Weiss offers.
"Robin has written an easy-to-understand breastfeeding guide for new mothers who are planning to have their first breastfeeding experiences, as well as experienced mothers who need to refresh their minds about breastfeeding," Denise Punger M.D., F.A.A.F.P., author of "Permission to Mother."
About the Author

Robin Elise Weiss is a nationally recognized childbirth and postpartum educator, certified doula and lactation counselor as well as the pregnancy/birth expert for About.com. She is the author of nine books on pregnancy and childbirth and she and her work has been featured in Newsweek, Working Mother and American Baby. She is the mother of eight children. You can find more information about Robin at: http://pregnancy.about.com, http://robineliseweiss.com, and http://birthactivist.com
We hope to post a book review of Robin's book in the future.