Fashionable Media Review Policy: The featured product for this review was provided to me, at no cost, by the manufacturer or representing PR agency for the sole purpose of product testing. Opinions expressed are my own and are not influenced by monetary compensation.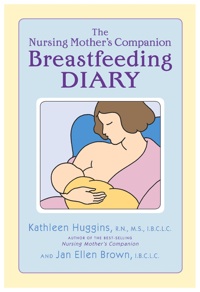 The Nursing Mother's Companion Breastfeeding Diary will help mothers make sure their babies are getting enough milk, keep track of which breast to start the next feeding on, and record any pumpings or supplemental feedings. For every day of the baby's first two months, a mother will also find an inspiring quote and timely, practical advice from two long-time lactation specialists. Mothers will have a daily space to write down thoughts on motherhood, memories, milestones, questions and concerns to share with baby's doctor. More than a log book, The Nursing Mother's Companion Breastfeeding Diary may very well become a keepsake of baby's first precious two months.

About the Authors
Kathleen Huggins is a registered nurse and board-certified lactation consultant who has been counseling breastfeeding mothers for more than 25 years. She lives with her family in San Luis Obispo, California.
Jan Ellen Brown, I.B.C.L.C., is a board-certified lactation consultant and retired La Leche leader with 20 years of experience. She lives and works in Charlotte, North Carolina.

My Review
I have been using The Nursing Mother's Companion Breastfeeding Diary since our new son was born last Wednesday and it has been really helpful. With each child it has become increasingly harder for me to keep track of feedings, let alone milestones and memories to remember that cannot be captured on camera. This little diary has literally become my companion. It is never far from my nursing spot and even in the middle of the night I find myself grabbing it to record at least the time of my son's nursing session and diaper change as we establish our breastfeeding relationship. There are plenty of times we fall back to sleep so I am unable to write down when the session ended, but at least I have a general idea of how many feedings he's getting, as well as how many wet and dirty diapers he has throughout the day.
I love being able to record some of the little things that are usually forgotten if they do not get written down – the squeaky noises he makes when he's sleeping or the fact that he scoots closer to me in his sleep if he senses I have moved a few inches away from him or how strong his grip is on my finger.
The book itself is paper-overboard with covered spiral binding and has about 60 days worth of pages to record feedings and other important keepsake memories in. It retails for $12.95 and may be found at www.harvardcommonpress.com
The special quotes and little notes written by the authors are encouraging, as well as good reminders during the ups and downs of sleepless nights and nipple soreness – Breastfeeding is worth all the work and sacrifice! I would recommend this book for both new and veteran breastfeeding moms.
This would make a wonderful gift for an expectant mama.