Fashionable Media Review Policy: The featured product for this review was provided to me, at no cost, by the manufacturer or representing PR agency for the sole purpose of product testing. Opinions expressed are my own and are not influenced by monetary compensation.
I prefer to make my own baby food and have usually only used store bought for convenience or while traveling to save on one less thing to prepare. Making my own baby food allows me to be in control of where my baby's food comes from, if it is fresh and what goes into it. It gives me the confidence of knowing I am feeding my baby the best possible food.
Baby Bullet Review
We received a Baby Bullet blender to review and I have to tell you that even though it is another small appliance to store, I really like it. I have ground up oats, flax seed (not for baby but for the family), carrots and bananas. I found the blender much easier to clean than our large blender. I love all of the accessories that comes with the baby bullet: power base, of course, six mini bullets and a tray to hold six, two medium sized bullet cups, the large batter bowl, two blender blades, a tray of 12 storage compartments, a spatula and manual/cookbook that enables you to make an entire week's work of all natural baby food in less than five minutes. I have yet to try that to see if I can really accomplish it in five minutes, but that day is coming since baby boy wants to eat more and is interested in just about everything we eat!
Here's some flax seed that I just did up for our family last night because I wanted to see if the Baby Bullet would do it rather than getting the large blender all dirty for nothing: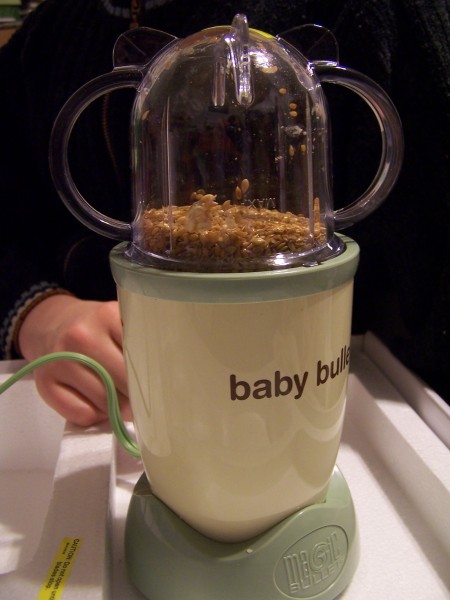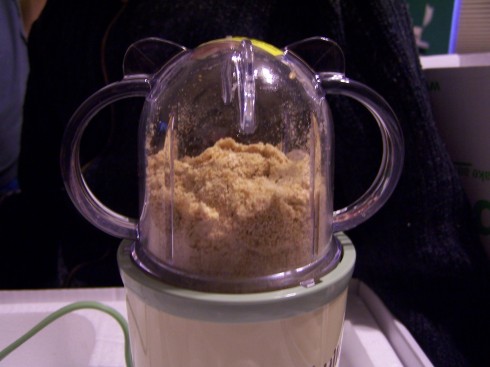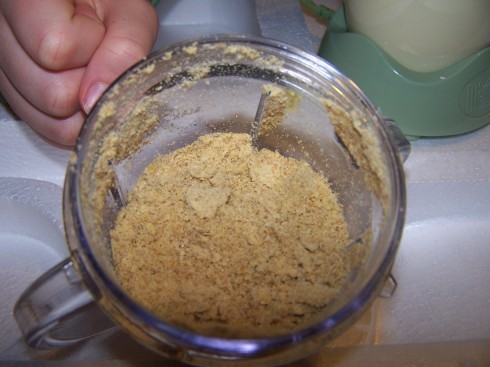 It did a great job. Quick and easy. Barely any clean up either since we used the smaller cup so we could store it right after grinding the seed up. All we had to do was put the blender away and store the cup in the fridge. I have pictures of us doing up a batch of banana food, but it's on the other computer and we need to get a move on for co-op today so I will not be posting those.
I love the fact that the cookbook shows you an average what to expect your baby can eat at each month after showing signs of being interested/ready for solid foods. It even suggests what containers to store your prepared food in.
The Baby Bullet really makes it easy to make your own baby food. Amounts will vary as each baby's appetite will be different, but leftovers can be stored in the fridge for a day, maybe two . And if you keep your box looking nice then there is always a place to store the Baby Bullet and its accessories, if you happen to be short on counter and cupboard space.
From the creators of the world's most popular personal blender – The Original Magic Bullet (r) – comes The Original Baby Bullet(tm)! This safe, non-toxic and BPA-free countertop magician was specifically designed for new moms, on-the-go moms and even Dads too! With The Original Baby Bullet(tm), parents can prepare, blend and store an entire week's worth of nutrient-rich, preservative-free, organic baby food – in less than five minutes!
The Original Baby Bullet(tm), which boasts a warm, cheerful design aesthetic, is much more than a blender – it's a 22-piece comprehensive baby food making system designed to make mom's life easier while ensuring baby begins life eating the healthiest, most nutrient-rich all-natural foods. It can be purchased for $59.97, plus shipping and processing, at www.mybabybullet.com. The offer also includes the Stay Fresh Thermal Tiny Tote Bag as a free gift.