New York, NY April 4, 2011 – Discovery Kids, the #1 real world entertainment brand for kids from Discovery Communications, and
Rocketfuel Games announced today two apps for Apple iPhone(r) and iPod(r) Touch, Seek Your Own Proof: Agent Arcade and Seek Your Own Proof: Field Missions.
The apps are based on the popular virtual community and game Seek Your Own Proof, which can be found at www.Discoverykids/seekyourownproof. Seek Your Own Proof engages kids in an investigation of history and science by allowing them to act as "secret agents" through a collection of story-driven online missions and games. The game also features a real world component through activities found at participating museums and historical locations nationwide.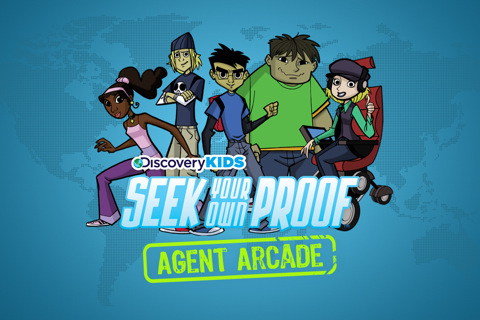 Seek Your Own Proof: Agent Arcade expands on the activities featured in the online game and allows kids to take on new mini-games through an engaging mobile gaming experience. The app includes four challenging games and an "agent gallery" where you can browse your favorite heroes and villains. Seek Your Own Proof: Agent Arcade is available now for download from the Apple iTunes App Store for $1.99.
Discovery Kids will debut the Seek Your Own Proof: Field Missions app later this spring, a puzzle adventure game which enables young
museum-goers to investigate mysteries in a real world setting. Acting as secret agents of an underground time travel agency featured in the online version of Seek Your Own Proof, kids are provided with clues based on objects and artifacts found in their local museums and historical landmarks, while guided through each mission by animated characters from the program. The experience continues online where kids can sync the Field Mission rewards they earned using the app with their online agent account to unlock rewards. Seek Your Own Proof: Field Missions will be available from the Apple iTunes App Store and will be free for a limited time only at launch.
New missions at museums, exhibitions and cities across the U.S. and Canada will be added monthly for in-app download and purchase, including the world premiere engagement of Pompeii The Exhibit: Life and Death in the Shadow of Vesuvius at the Discovery Times Square Exposition in New York.
About Rocketfuel Games
Rocketfuel Games is a producer of interactive entertainment that you play online and in the real world. Our first title, Seek Your Own Proof, is a puzzle adventure game where kids are challenged to investigate science and history as secret agents. Seek Your Own Proof is distributed exclusively under Discovery Kids and launched in public beta in February 2010. For more information, visit rocketfuelgames.ca.