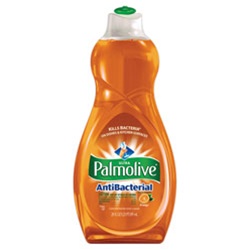 We all enjoy clean dishes. The trouble with some dish soaps is that they may cause dry, cracked hands during the cold weather months. Last month we when we went to Minnesota for a weekend, just before we left we received a small bottle of orange Ultra Palmolive Antibacterial dish soap. It was a great little size (10 fl oz.) for our weekend away, since we do crockpot meals etc. while traveling.
We have always liked the Palmolive brand as it is one of the few that have not caused our hands to dry out. The antibacterial soap was just as good. It also has a pleasant scent, but I love anything that has a citrus smell anyways.
This Palmolive dish soap did not really perform any differently than we expected. We got good suds and it adequately cut through grease and grim build up.
Two thumbs up for Palmolive Antibacterial dish soap!
Fashionable Media Review Policy: The featured product for this review was provided to me, at no cost, by the manufacturer or representing PR agency for the sole purpose of product testing. Opinions expressed are my own and are not influenced by monetary compensation.