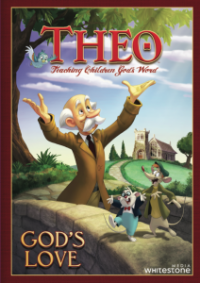 Theo is a animated series that discusses doctrines about sin, God's character, the Bible, salvation and godly living in a kid friendly way. With easy-to-understand illustrations that make children want to learn more about the Christian faith.
Theo Presents recognizes a universal fact: children and adults alike love cartoons. Theo captures the attention of young minds with liberal amounts of humor and high quality animation to present the Gospel of the Christian faith through the teachings of Theo and with the use of his two object lessons, Belfry and Luther.
Theo was created to reach kids of all ages. The lessons and teachings of Theo can be used for Sunday school lessons, Christian school curriculum, missions, evangelism and homeschooling.
My review-
Our children loved this dvd and watched it again and again. It's one of their favorite movies and they always ask to watch it. They really loved this and wanted
As a mom I love that this dvd teaches positive messages and lessons to kids!  So this DVD get's two thumbs up from us!
The all new Theo-God's Love DVD is available for sale on the website here.