Giving birth to a baby is hard work. But, we have the perfect present for a mom! Whether the special mom just had baby number one or baby number five the Mommy Recovery Kit is a perfect gift bag!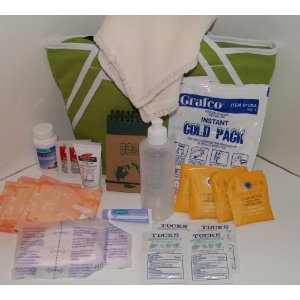 This gift bag comes in a cute reusable insulated canvas tote which not only makes carrying the Mommy Recovery Kit very discreet, but it doubles as a great way to carry breast milk or bottles for the Mommy who has places to be.
The necessities that come in the Mommy Recovery Kit will get mom through those first few critical days at home. Let's face it, who wants to ask their husband, mom, or girlfriend to stop and get them extra long maxi pads or hemorrhoid cream, Mommy Recovery Kit takes care of it all!
Mommy Recovery Kits is sold exclusively on Amazon.com, The Kit qualifies for FREE "Super Saver Shipping", FREE 2 day shipping for Amazon Prime Members and sells for $45.00 (which includes the free shipping).