Ahoy Matey!  Pirate's Booty Aged White Cheddar is a snack the whole family can enjoy!  This baked, all-natural snack is made from puffed rice & corn, and is blended with real aged white cheddar cheese.  Pirate's Booty now has a new look!  They have teamed up with Disney Junior's Jake and the Neverland Pirates to create a multipack of 12 one half ounce bags perfect for lunches and snack time.  If your son is anything like mine, than you have probably seen every Jake and the Neverland Pirates episode created.  To me, it makes perfect sense that Jake and the Neverland Pirates and Pirate's Booty have joined forces.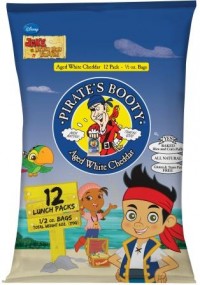 Each half ounce bag of Pirate's Booty is a perfect size for kids and even adults.  Both my son and I loved how light and airy it was.  The puffs have so much flavor and almost melt in your mouth.  They are so tasty and addicting, it's hard to stop eating!  Compared to regular potato chips, Pirate's Booty has half the fat and fewer calories.  I love the fact that it is gluten-free and is made in a peanut and tree-nut free facility.  There are so many children out there who have allergies, and this is a delicious snack alternative for them.  These snack size bags are perfect for lunches, picnics, play dates, or anywhere on the go.  My son loves to grab a bag after his nap and watch Jake and the Neverland Pirates while eating his Pirate's Booty.  The other day he had to dress up as "Jake" to eat his Pirate's Booty.  Our entire family loves Pirate's Booty and we will definitely be buying more of these limited edition multipacks.  If you haven't tried Pirate's Booty Aged White Cheddar, you don't know what you're missing!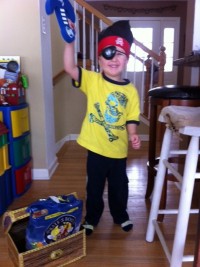 For more information visit:
Fashionable Media Review Policy: The featured product for this review was provided to me, at no cost, by the manufacturer or representing PR agency for the sole purpose of product testing.  Opinions expressed are my own and are not influenced by monetary compensation.