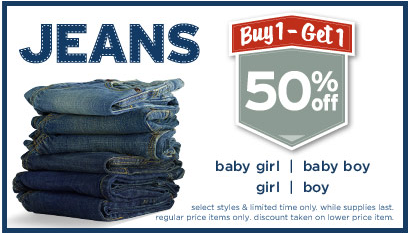 Gymboree is one of my favorite stores. From their free shipping deals and great coupons, to the fun atmospheres of their store I love the whole deal. Not to mention how cute, fashionable, well made and affordable their clothing is. You're missing out if your child's closet doesn't have at least one gymboree outfit in it.
And just in time for fall and the back to school rush, Gymboree is having a buy one get one fifty percent off jean sale on their girls, boys, baby girl, and baby boy jean collections!
From boot cut to skinny and wide leg, their jean collections are great for sports games, play dates, afternoon walks in the park, birthday parties, school, and even church.
And to prove that they're THAT well made, I have a pair of baby jeans from them that is almost nineteen years old. (I kept it for sentimental value, hey all my kids wore them.)
Check out their baby girl, baby boy, boys, and girls jean sale at the links and don't forget to sign up for the Gymboree Rewards program.