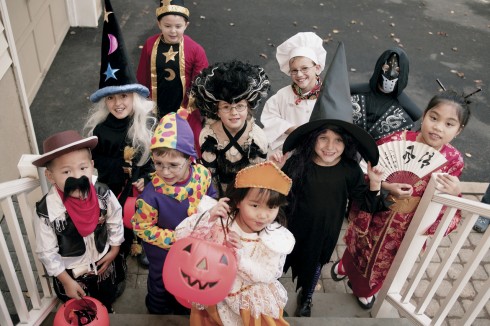 Halloween is a time of dressing up, spooky fun, laughter, and hyperactive kiddies. It's one of the most looked forward moments of the year, after Christmas morning, and us mom's know all about our kids begging for the candy in the stores days before the actual night. Here are our tips to ensure that your kids are safe and secure on Halloween.
Don't wear black- Black obviously blends in with the night so don't let young children wear dark costumes, opt for brightly colored ensembles or stick reflective tape on their bags or parts of their costume to ensure ultimate safety. Also consider making sure that at least two members of the group have a fully charged flashlight.
Go in groups- Always make sure that either a parent is with young children, or older children are in a group. Remind your older children to stay on sidewalks and to avoid talking to strangers or cars that may be lurking. It's always a good idea to go with your kids as well. Besides, why waste all those precious photo and memory opportunities?
Go easy on the candy- It may be tempting for your little ghouls and goblins to eat all their candy at once, but make sure they know that their tummies can't handle all of it. Get them to stretch it out for a week or so and consider stopping the trick or treating fun after a block or two and go home for some fun games and popcorn balls.
What are your Halloween safety tips and tricks?