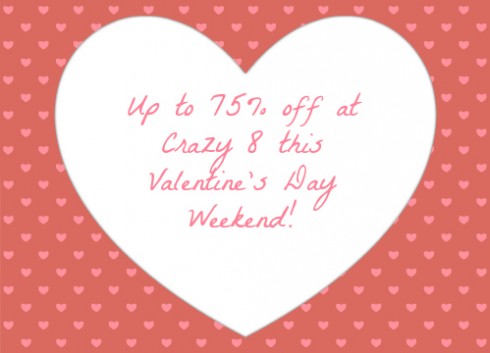 Crazy 8 is having an insanely awesome Valentine's Day sale this weekend till Monday! You can steal graphic t-shirts for six dollars, colored jeans starting at twelve dollars, as well as polo shirts and skirts starting at ten dollars.
Easter is just around the corner so take advantage of all the pastel colors that Crazy 8 recently stocked, and get ready for the craziness to come! This awesome sale gives you a HUGE jump start on all the spring clothing that you need to buy before all this dang snow melts.
A part of the Gymboree family, Crazy 8 is an affordable children's brand that sells clothing for newborns all the way up to size fourteen. Fashion forward, classy, and stylish, the items they sell are not only adorable, but perfect for little ones.
Made with the same quality that you'd expect from all Gymboree items, you can check out everything they have to offer at crazy8.com