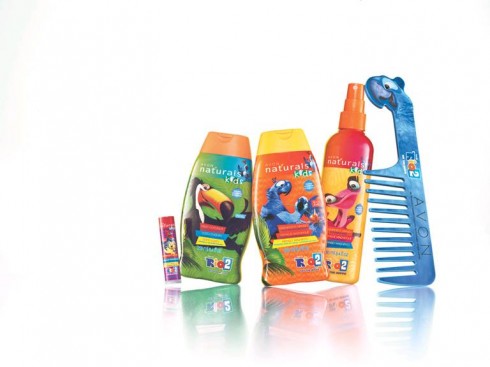 Rio 2 comes out in theaters on April 11, 2014 and in celebration of this fun movie, Avon has launched a natural kids personal care collection!
These colorfully decorated and deliciously scented items are perfect for kids ages three and up. We love the gentle formula the collection is made with to ensure that sensitive skin stays safe. The collection includes:
Magnificent Mango Body Wash & Bubble Bath ($5): This mango scented body wash doubles as a fun bubble bath that kids are sure to love.
Crazy Coconut Shampoo & Conditioner ($5): The gentle, tear free formula keeps little heads smooth and shiny. The 2-in-1 shampoo and conditioner cuts back on bath time as well!
Magnificent Mango Hair Detangling Spray ($5): This spray instantly detangles hair and leaves it free from frizz and flyaway strands of hair.
Rio 2 Detangling Comb ($3): This adorable comb goes perfectly with the detangling hair spray.
Magnificent Mango Lip Balm ($.99): This gentle lip balm revives lips that have been left dry by the harshness of winter.
The collection is available exclusively through Avon.com