As a very busy mom who is always on the go, it's hard to tote around my 9 month old and still get things done. When my daughter was only a few weeks old, I couldn't get anything done. I was carrying her around all the time, because she refused to be happy anywhere else. I had to make blog posts with one hand, dishes with one hand, laundry with one hand, and don't even ask me how I made dinner every night. Thankfully, I discovered a different way of carrying my little one.
Baby slings are the most convenient way of carrying around your newborn. They are also quite fashionable too! Most carriers today are available in a variety of fabrics and sizes.
I have been reviewing and testing different baby slings and wraps over the last several months and I just recently got the Jelly Beanâ"¢ Cargo Sling by Munchkin.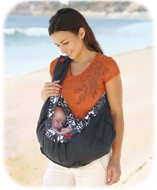 Bring your baby and forget your diaper bag with one sling that does it all!
This ergonomically designed sling has lots of extras and is great for nursing. There are 4 cargo pockets to hold a cell phone, diapers and wipes, keys and wallet, with the special inside pocket for a bottle. A double buckle and safety stopper makes sure your sling stays put. There's even a loop for a pacifier or teether.
For me, it wasn't one of the more comfortable slings I've tried, but that's probably because I didn't get to try this one when my daughter was little. The weight limit on this sling is 20lbs and my 9 month old is almost too big for it. However, after wearing it I can tell that it would have been great with a newborn.
With all the pockets and extra storage, I would have died to have this when my daughter was a tiny little baby!
I definitely recommend this one for new moms with new babies. It's affordable and totally convenient.
What: Jelly Beanâ"¢ Cargo Sling
Price: $35
Where: Visit Munchkin.com to find a store location near you, or purchase online at BabyAge.com